V&M Breakout Morning Update - Aug 28: 30Y Treasury Yield Down To New All Time Low
This is today's sample of the daily updates provided to members (with active links) to the trading pages. If you are interested in receiving this information on a daily basis with all the portfolios included, get started now:Click here for a FREE TRIAL
Getting Started Quickly - V&M Breakout Presentation
I have added a new set of signals on the Momentum Gauge tab to measure the gains achieved between buy/sell momentum signals using 1x and 3x ETFs. This may be a future model to apply to a market neutral trading strategy. The measured returns of the 1x return (SPY/SH) is 33.1% and 3x return for (FNGU/FNGD) is 156.72% from November.
A new Chat Room for members has been added to socialize and share ideas that may not all be stock related: V&M Member's Lounge
Premarket Index Futures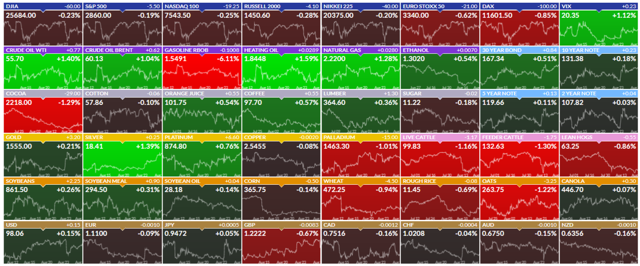 Premarket index futures are mixed with stocks lower and oil prices increasing. The S&P 500 has fallen further to 2860 support ahead of the open with the VIX, USD and precious metals gaining.
Last week Chairman Powell gave us some indication that another small rate cut may come in September, but the QT asset rolloff continued with a -$5.3 billion rolloff last Wednesday. Today the original rolloff amount scheduled was around -$10 billion and we will once again see what the Fed actually does when they update their SOMA holdings on the link below:
System Open Market Account Holdings - FEDERAL RESERVE BANK of NEW YORK
Average Daily Returns of the S&P 500 YTD
The Friday anomaly got beat up last week on all the macro news about China-US trade, increased tariffs, and a lack of a strong statement toward quantitative easing by Chairman Powell. Now 90% of the gains for the S&P 500 come from Tuesdays and Fridays YTD 2019. Wednesdays remain the second worst day of the week for 2019.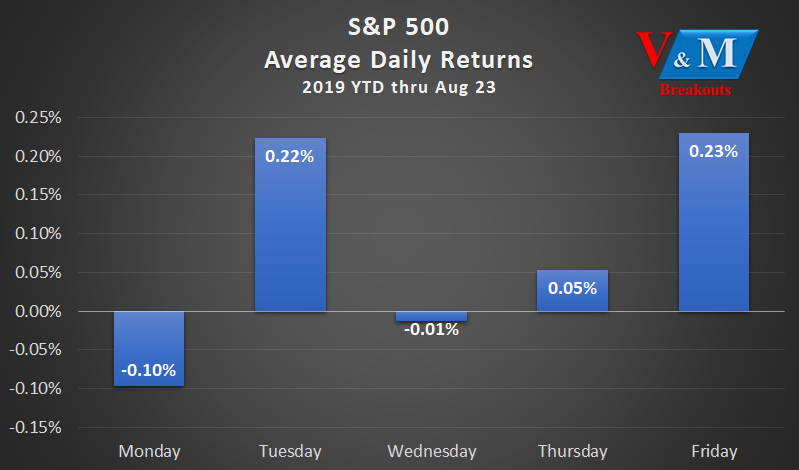 Negative momentum conditions remain high and we have not seen any confirmation that the Aug 1st breakdown has ended. In each of these prior Momentum Gauge signal events the market subsequently dropped more than 6% and as much as 22%. We are down over -4.2% for August and I don't think the downward momentum trend has been stopped yet, so continue to remain cautious. Consider the strong similarities to May and October previously and my recent article reviewing the breakdown signals over the past year:
These 3 Measures Forecasted Every Major Downturn Since QT Started: What's Next
Additional Negative Signals are Stacking up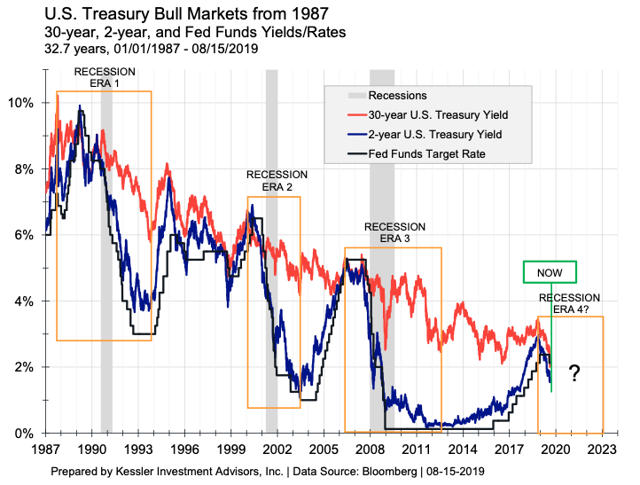 (Source) We are in the 4th Era shown on the graph above and what is most significant is that for the first time EVER the entire yield curve is below 2%. This chart illustrates many of the negative sentiments I am conveying regularly to members as we await more news from the FED on whether they will start QE again soon. The FED halted Quantitative Tightening 2 months earlier than scheduled in the week of Aug 1st, but we have not seen whether this relates to a change back to Quantitative Easing.
Week 35 Breakout Forecast: Short-Term Picks To Give You An Edge
Grant's Winning Bounce/Lag Momentum Stocks For Week 35
Daily Momentum Gauge Chart
The momentum gauges closed yesterday after hours in negative conditions at 79 Negative and 14 Positive. The all time high negative was 125 on Dec 21, 2018. Prior downturns of this magnitude have lasted at least 4 weeks.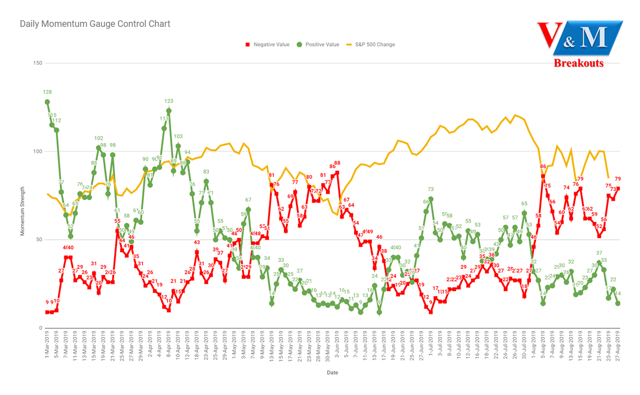 Top CFO Insider Buys last 10 days
CFO purchases are declining again in size from the top 20 being all above $100k last week, but still well above the $30k cutoff level for highest significant results based on my research: CFO Trading Anomaly: Top Buys Beating S&P 500 By 28% Annualized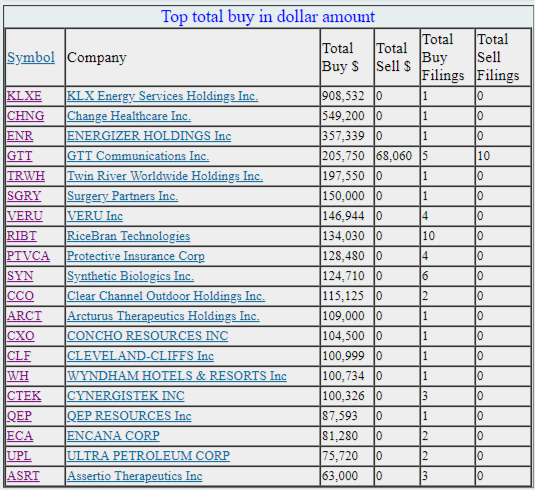 Top Weekly Breakout Stocks from the V&M Dashboard Spreadsheet
Top weekly breakout stocks through the close yesterday. The Premium Portfolio is halted consistent with the trading model that follows the Momentum Gauge signals. These stocks are updated live on the V&M Dashboard daily and provide some good ideas for those who still want to find breakouts in negative momentum conditions.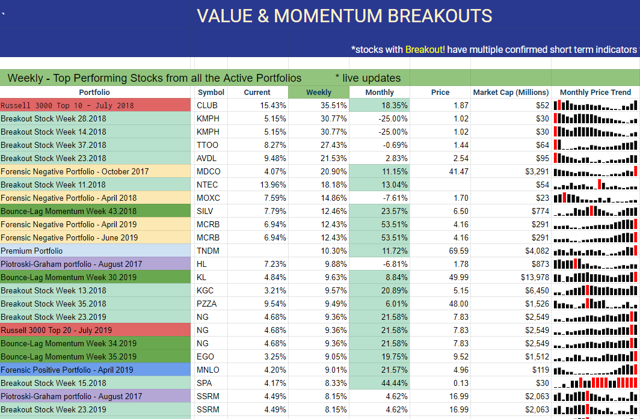 Members' V&M Dashboard Link: V&M Premium Portfolio Dashboard
S&P 500 Intraday Technical Chart
The negative trend from August 1st is still the stronger trend with momentum conditions highly negative. Analysts are calling 2935 a very critical resistance level on the S&P 500 that will determine how the market continues. The index failed to break above 2900 yesterday and is moving below 2860 key support levels before the open.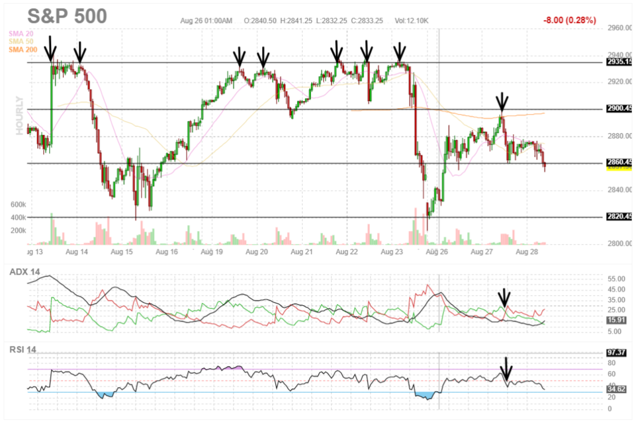 Current S&P 500 technical chart following the forecast above from a week ago. The similarities to October continue as we see multiple tops at 2935.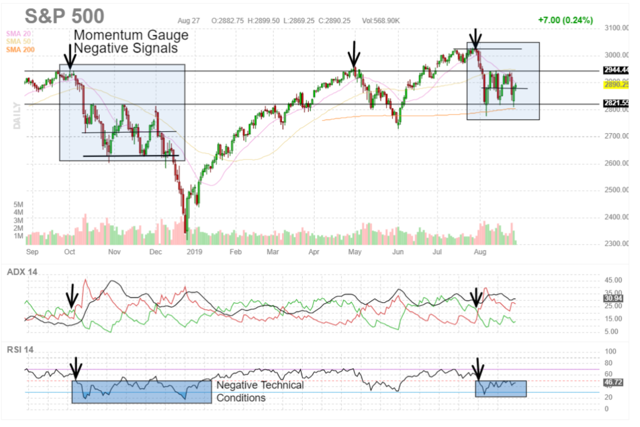 The possibility exists that these are contributing signals to a larger event that Morgan Stanley predicts is a coming major downturn: Morgan Stanley: The Bear Market Started In January 2018 And Is About To Get Worse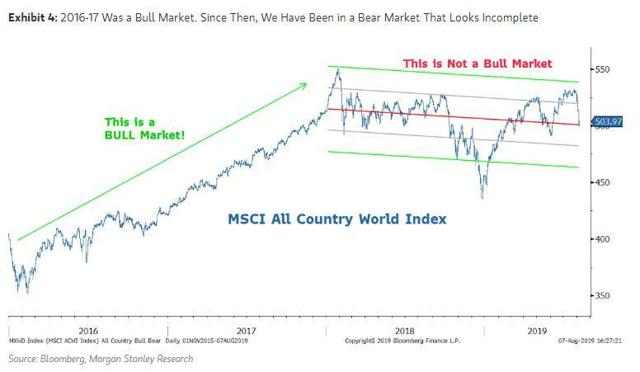 Earnings Scheduled this Week
This is today's sample of daily updates provided to members (with more active links) to the trading pages.  If you are interested in receiving this information on a daily basis with all the portfolios included, get started now:Click here for a FREE TRIAL 
All the very best to you and have a great week of trading!
JD Henning, PhD, MBA, CFE, CAMS