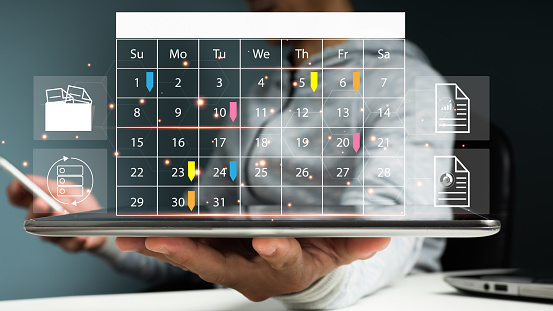 Value & Momentum Breakouts 2022 / 2023 Article Schedules
This article provides the 2022 actual article release schedule and forecasts article schedules for 2023. Member feedback is always appreciated to help me provide the most value in a balance with the least amount of reporting as possible.
Scheduled articles for 2022 are on track for 267 not counting sample articles released to the public. Unscheduled articles are on pace for around 52 articles for the year. Regular resource article updates and report card performance articles are expected to be around 13 articles. This combines for a total of 332 member articles/reports this year.
Scheduled Articles for 2023 will be very similar to 2022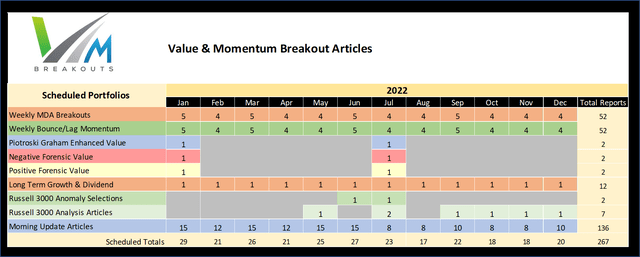 Scheduled Report Changes for 2023:
Based on member feedback The Morning Update articles have been reduced from 5 days/week in 2021 to 3 days/week through June of 2022 down to 2/days week currently. These daily articles account for the largest number of scheduled articles and can be adjusted based on member interest and feedback. Content requests and changes are also welcomed.
The Long Term Growth & Dividend mega cap growth portfolios are the only selection of long term stocks that go out every month. This frequency was increased on member request, but could be reduced to quarterly or semi-annually if the volume of selections with a January selection and 11 bonus monthly picks is too high.
All the other long term value portfolios go out 2x a year and will continue again next year. Selections used to be released 6x year in 2019, 2020, 2021, but the semi-annual cycle appears to be working well for members.
Unscheduled Articles for 2023 are highly subjective
Member feedback and article click-traffic data drives these different reports.  These reports and analysis will fluctuate from year to year. 

Unscheduled Report Updates for 2023:
More than 5,000 charts are posted each year in V&M Chatrooms and many customized to member requests.
I have tried different articles like Charts of the Week to better share so many charts available daily in the chat rooms.
I started doing Technical Outlook videos based on all the charting on YouTube but it dilutes some of the value for members in a public format.
In prior years I have done several updates on the CFO Anomaly and one report was released in April. Many of these prior studies can be updated at any time based on member interest.
Fed QT articles will continue and there is a large and growing collection of reports from 2018 in the Library Section 4: Market Articles / Federal Reserve.
Seeking Alpha Roundtable Articles go out 2 to 3 times a year based on Seeking Alpha events to publish input from different Marketplace services.
Member Contribution Articles have their own Section 3 in the Library. These come from members conducting their own studies or stock reports on ideas they want to share with the community.
Annual Report Card and Resource articles
No changes are planned for 2023 and these articles are used to summarize portfolio and model strategies and performance. Resources are always expanding and being updated to help members use the many features available at V&M Breakouts.

Long Term Goals to meet Member Requests
Our long term members know how much my service has evolved over the years based on valuable member feedback. There are more ideas for beating the markets than time available for us to digest all the possibilities. One of the major accomplishments this year was the release of the Automated Momentum Gauges with member requested SMS and email customized alerts. Much more available here:
Research Goals Of The Automated Momentum Gauge® Website
Automated Sector Momentum Gauge® Instructions For New 2022 Launch
This new automated website is also being designed long term to allow subscribers to pick and choose which service models and stock selections you want to pay for. Based on feedback from some members, you may only want access and much lower pricing for using fewer features of my service.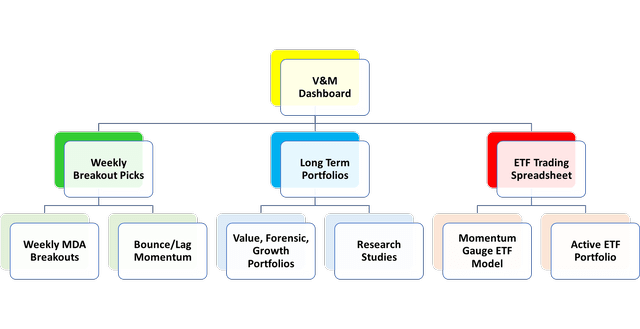 The new Automated Momentum Gauge Website is evolving with more features you will be able to unlock at different subscription rates to pay for only what you want. As requested in prior years, the Momentum Gauge signals are now active at different time scales, intraday, daily, weekly and monthly to support ETF trading on the S&P 500, 11 Sectors, and the Market Gauges. Eventually many different stock selection features can be released on the automated website. All of the stock models will be able to send subscribers real-time SMS alerts and emails customized to your breakout selection requests. The main value of the automated V&M Breakouts website is the volume of data that can be instantaneously processed and conveyed in real time to aid your trading success. Additionally, the choice to subscribe to fewer features can reduce member subscription expenses.
The best overall value with one-price access to all the models, active trading, stock reports, research studies, and direct interaction with me will continue on the Seeking Alpha platform. These improvements are all part of valuable ongoing member feedback intended to provide you with the best value possible for your trading success. Thank you for being part of our outstanding community on V&M Breakouts!
JD Henning, PhD, MBA, CFE, CAMS
Twitter: twitter.com/jdhenning
Stocktwits: AnomalyDetective (@AnomalyDetective) | Stocktwits
Momentum Gauges® website: Value & Momentum Breakouts - Top Financial Models for Double-Digit Success
Disclosure: I/we have no stock, option or similar derivative position in any of the companies mentioned, and no plans to initiate any such positions within the next 72 hours.
I wrote this article myself, and it expresses my own opinions. I am not receiving compensation for it. I have no business relationship with any company whose stock is mentioned in this article.