Technically Speaking
RSI- This last week, the RSI continued to follow the SPY chart and moved down. But it closed at 57.39 which is well within the bullish standards. So even though the stock has moved down the last to weeks, it still appears bullish strong. This week should define how really strong it is.
Bollinger Bands- as of late, the Bollinger Bands and the SPY chart have met each other. When this happens the bands contract and show very little volatility exists. The results of this are very little trading. Now would make a good time for a break out. So now it looks like we are moving sideways and trying to determine which way it will go.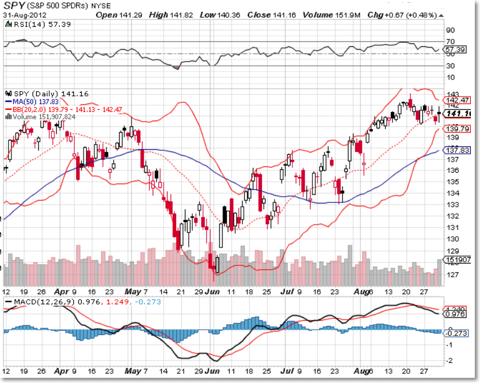 MACD-there is a rose over in the RSI for the MA's, but it is still very bullish. It supports where the RSI has been going. So basically the SPY still has bullish tendencies, but still needs to define direction this month.
Current Events
Investors are looking ahead to the European Central Bank meeting on Thursday that is expected to take pressure off highly indebted countries. Comments from ECB Executive Board member Benoit Coeure rekindled expectations for central bank action.
In response to the financial crisis and recession of 2007-09, the Fed cut overnight interest rates to near zero and bought $2.3 trillion in government and mortgage securities in two separate rounds of so-called quantitative easing .It next meets on September 12-13, and policymakers have been locked in debate over whether further bond purchases are warranted to spur a stronger recovery.
Economists said Bernanke's emphasis on the health of the job market throws an especially strong spotlight on a report due on September 7 on job growth in August. Hiring picked up in July but the jobless rate moved up to 8.3 percent.
Central bankers who traveled to the wilds of Wyoming to figure out if more policy action was needed to curb stubbornly high unemployment heard powerful arguments on both sides of the debate, and leave with many questions unanswered.
Policymakers in Europe and the United States facing weak growth and painfully high unemployment are struggling with the issue of whether additional monetary stimulus could do more harm than good.
Disclosure: I have no positions in any stocks mentioned, and no plans to initiate any positions within the next 72 hours.