The bearish day from tomorrow may continue if the technical signs are correct. We took a hard fall, but we are also showing short term negative divergences in the MAC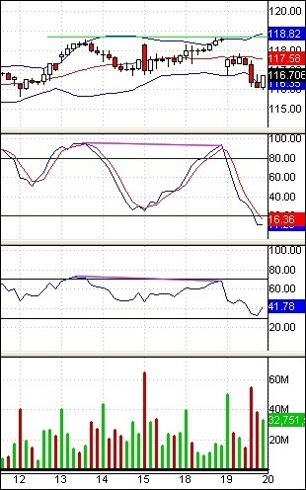 and RSI this morning. This usually alerts us to continued downward movement in this case.
We will see if the good news can  counter what technicals are preaching this morning.
United Technologies Corp. credited rebounding aerospace markets and continuing benefits from restructuring Wednesday as it said third-quarter profit jumped 13 percent.

Delta Air Lines Inc. said Wednesday it had net income of $363 million, or 43 cents per share, for the quarter.

The owner of the nation's biggest cigarette maker reported Wednesday that it earned $1.13 billion, or 54 cents a share, for the period ending Sept. 30. That's up from $882 million, or 42 cents a share, a year earlier.
Our fall because of China's unannounced interest rate hike will now hopefully be countered by the good earnings news and help us rebound today. Yesterday was a shock move.
Disclosure:
No Position