Technically Speaking
RSI- the RSI continues to move up with the SPY stock chart. It is very bullish right now at 70.32 and is not showing any signs of slowing down. I would judge this as a continued bullish sign. We have no sign as showing of any slow down either.
Bollinger Bands- We saw some contraction, but the last couple days have spread the bands out again. After moving sideways with a bearish flavor the last two weeks, the SPY really shot up the last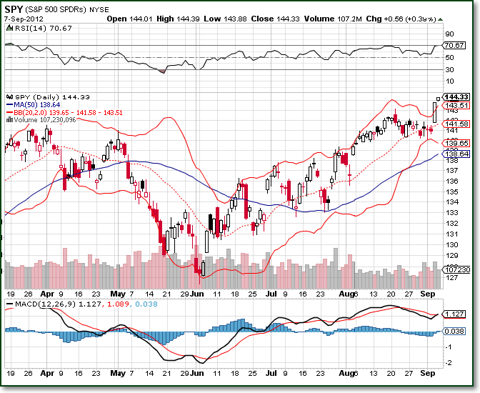 two days. Since we shot outside the upper band, I would expect the stock to pull back in at some point. It can either move sideways or slightly bearish before it continues to move up-- if this is the case.
MACD- the has been a long negative divergence taking place within the MACD and the MACD Histogram. Usually when this occurs and it stand alone, it is more of a sign of consolidation than anything else. It has no support from any other source to build a case for a a trend reversal. So we may see some consolidation but I do not see signs of a reversal yet.
Current Events
At the start of the historically weakest month for equities there are plenty of reasons to believe stocks may be just about reaching a top - at least in the short term.
"Our view is that the next double digit move in the market is down not up," said Morgan Stanley in a research note. The analysts, led by equity strategist Adam Parker, believe the S&P 500 will finish the year at 1,214, 15 percent below where it is now.
One negative factor is the rapidly declining earnings outlook for the remainder of the year, as well as for 2013. Analysts are now expecting a 2.1 percent drop in third quarter earnings year-on-year. About a year ago they were looking for growth of nearly 15 percent.
New evidence of sluggish U.S. jobs growth and dovish tones from Federal Reserve officials have pumped up expectations that the central bank could announce a new easing program after its meeting Wednesday and Thursday.
The two-day Fed meeting is the big event in a week that includes some important economic data. Retail sales data Friday is likely to show consumers increased spending in August, but inflation data could show that some of what is being purchased is just higher priced gasoline.
Meanwhile, the European Central Bank's announcement Thursday of a bond-purchase program aimed at lowering borrowing rates for cash-strapped countries helped give a lift to risk assets, and the focus now shifts to a German court ruling Wednesday on whether Europe's ESM bailout fund is constitutional.
Disclosure: I have no positions in any stocks mentioned, and no plans to initiate any positions within the next 72 hours.