We started out on the right foot yesterday morning and our first move was to test the high from a week ago. Well from their we went down hill and this has defined our next important resistance level for us at 120.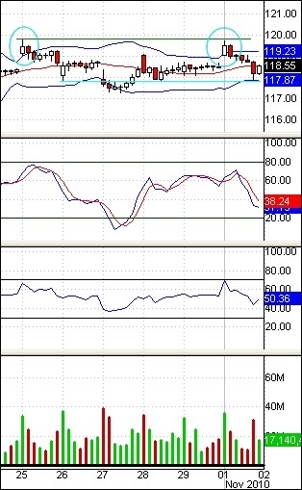 But at the end of the day, as you can see, we also we touched a nice support line at 117.87 and then moved up. So for the day even though we moved down all day, we also defined support and resistance levels.
What about today?
Do not expect much today, at least not before the elections.
Stocks have been fairly buoyant so far this week, especially after strong manufacturing surveys in the world's two biggest economies -- the U.S. and China -- boosted hopes about the pace of the global recovery.
However, the forecast-busting report from the Institute for Supply Management has not altered expectations that the Fed will ease monetary policy further on Wednesday given subdued U.S. inflation and high unemployment.
Disclosure:
no Position