After a lot of worries in the market at the beginning of the day that I will attribute to Cisco & the G-20 meeting, we slightly caught some sanity and rebounded. Not a whole lot, but we rebounded to almost the end of the previous day.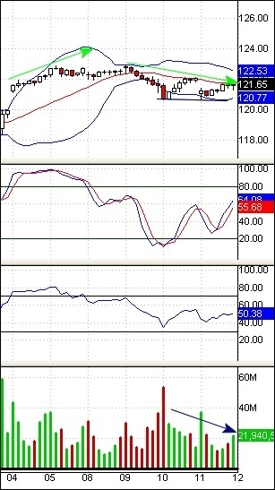 We are not out of the woods though. In a short term frame, we are now in a strong downward movement. You will notice that the bottom of the Bollinger Bands is the high point for the stock as it moves down.
The G-20 meeting is not pushing out good news either. Leaders of 20 major economies on Friday refused to back a U.S. push to make China boost its currency's value, keeping alive a dispute that raises fears of a global trade war amid criticism that cheap Chinese exports are costing American jobs.
This is not good for the markets this morning. Major Chinese indexes tumbled amid worries the government might raise interest rates to combat mounting inflation. The Chinese government said Thursday that the pace of inflation hit a more than two-year high in October.
Cooling China's economy could have an impact worldwide because the country's robust economy has helped offset sluggish growth in places like the U.S. Many companies have credited international sales, particularly in China, as a reason earnings have been strong.
Disclosure:
no Position