Technically Speaking
RSI- the RSI indicator continues to show weakness in the SPY and possibly the beginning of a reversal trend. It cannot be confirmed, but with each peak, the stock is lower and the RSI follows with more weakness. But on the positive side, this last huge slide down only dropped the RSI to the '46' level which is barely in bearish territory. So I would not yet conclude it is a bearish signal yet.
MACD- the MACD indicator pretty much mirrors the RSI in support of how the stock is moving. The MA's have been moving down but they are still in bullish territory. There is a long term signal here of a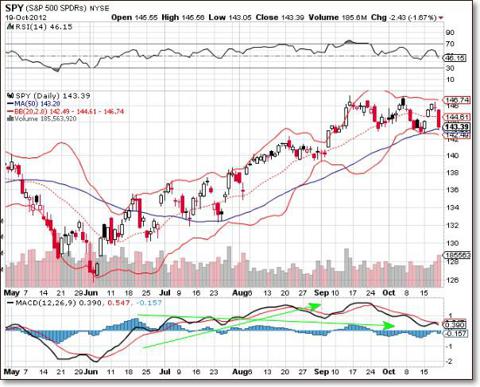 negativedivergence as I have written about before but nothing more than a consolidation signal because it stands alone.
Bollinger Bands- the bands appear tighter together and if the spy is going to use the bottom Bollinger Band as support, it is going to have to drop some more. The bands themselves have taken a bearish lean.
The stock has finished the day on the 50 day MA so it will be interesting to see if it continues to use this line's support. The MA looks to be leveling out also.
Current Events
Taking some of the focus away from earnings next week will be the Federal Reserve's policy meeting on Tuesday and Wednesday. After last month's meeting, the Fed announced its third round of aggressive economic stimulus, causing stocks to rally despite a slew of earnings warnings.
While investors welcomed the Fed's plan for more economic stimulus, known as quantitative easing, the move underscored worries that the U.S. economy may be in worse shape than feared.
Worsening macroeconomic conditions, namely sluggishness in the U.S. economy along with a dramatic slowdown in Europe and weakness in China, have been among the chief reasons cited by companies in their warnings about earnings and revenue.
U.S. economic indicators to watch next week will include new home sales for September on Wednesday and durable goods orders for September on Thursday, followed by the first look at third-quarter GDP on Friday, as well as the final reading for October on consumer sentiment from the Thomson Reuters/University of Michigan surveys.