Technically Speaking-
You can't say we are not trying.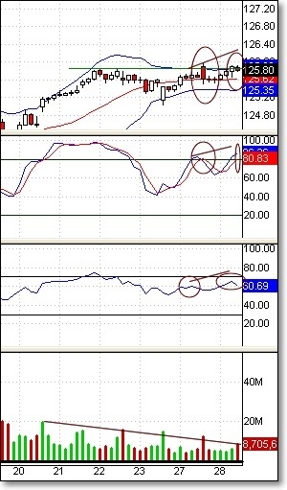 We are seriously trying to push through that 125.62 resistance level. We really are. The last couple days, we have had more strength trying to do it. Maybe today will be the day as we prepare for the New Year.
Nothing significant is happening though. Volume continues to get weaker through the holiday season. Everyone is waiting for the beginning of the year to start a new quarter.
Other Market Influences-
Holiday spending surged this year, but Americans still have their doubts about the economy. With unemployment high and home prices falling in the nation's largest cities, consumer confidence took an unexpected turn for the worse in December. So pessimism in market still remains strong.
China said it is reducing the amount of rare earths it will export for the first half of the year by more than 10 percent -- likely to be an unpopular move worldwide since the minerals are vital to the manufacture of high-tech products. This could lower the market with increased costs in cellular and computer parts.
Even with the news as it is, watch momentum carry the markets higher this morning from yesterday's close.
Disclosure:
I have no positions in any stocks mentioned, and no plans to initiate any positions within the next 72 hours.