S&P 500 ETF- SPY

Technically Speaking-
We had a nice start to the week yesterday. Short term, it looks like an Ascending Triangle which we know as a continuation pattern. We are looking for a breakout on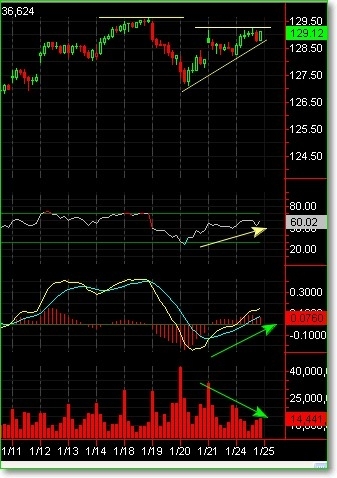 the upside for a continuation of our bullish ways.

The RSI and the MACD both support the move up. Volume has been a bit slow, the momentum looks good to continue upward from a technical stand point.

Other Market Influences-
Dupont Co. (NYSE:DFT)on Tuesday reported a decline in fourth-quarter earnings as increased sales were offset by higher raw material costs and the loss of pharmaceutical business from patent expirations.

Gold declined to a two-month low in London as demand for a protection of wealth waned and as holdings in exchange-traded products fell. Other precious metals slipped. This usually means confidence in the markets.

Consumer confidence is expected to post a slight increase for January but remain well below levels that would indicate a healthy consumer sector. Look for a lower open and wait for Johnson & Johnson (NYSE:JNJ) as well as 3M (NYSE:MMM) earnings to see where we go!
Disclosure:
I have no positions in any stocks mentioned, and no plans to initiate any positions within the next 72 hours.