Technically Speaking-
We gapped down and from there it was a bullish day all the way. But, the day was uneventful again as we ended the day back where we started from.
The quick move up we had in February has brought us to rest since then. As you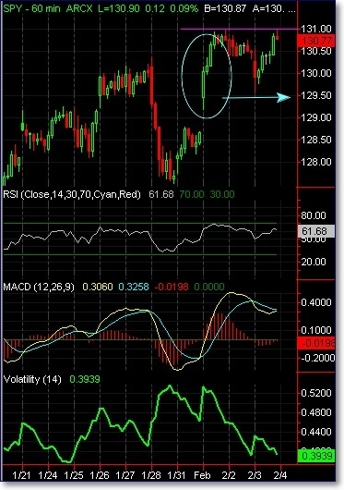 can see, volatility has gone way down since the beginning of the month. With lower volatility, we do not expect huge market moves quite yet. We are still attempting to push through the 131 barrier. What will the news tell us today? This will be the key.
Other Market Influences-
If you want insight into what's going on in the U.S. labor market, you can delve into the data released by the Bureau of Labor Statistics or check out online help-wanted ads. Or you could sit down with Jeff Joerres, the CEO of Manpower. His take: Things are getting better in the U.S. labor market, with some important caveats. (Article by Jeff Gross Yahoo Finance)

Stocks advanced Friday amid hopes that key U.S. jobs data will confirm that the recovery in the world's largest economy is gathering pace. However, concerns about the political standoff in Egypt kept gains in check. The economic data we receive today will tell if it continues to push us up or not.
Disclosure:
I have no positions in any stocks mentioned, and no plans to initiate any positions within the next 72 hours.