Technically Speaking
RSI- for the last three weeks, the SPY has gone up in value and as I observe the recent lows, I am noticing the lows have stayed above the '50' marker. This suggested strength in the move up and a possible continuation longer term. The present peak has plenty of room to move up.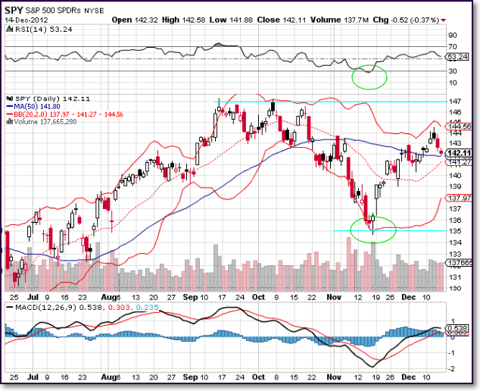 Bollinger Bands- it looks like the stock is moving between the upper and lower Bollinger Bands in what may be the beginning of a longer term trading channel that could move from (135-147) or anywhere in between. That is one outlook. The present low at the middle band could also signify a stronger move up.
MACD- The MACD MA's look like the present peak and the pullback may not signal a long term pullback. The SPY dropped stepper than the MA's. It looks like the stock wants to move higher. The stock is still in the bullish range like the RSI is.
Current Events
"A lot of firms are saying to their trading desks, 'You can take days off for Christmas, but you are on standby to come in if anything happens.' This is certainly different from previous years, especially around this time of the year when things are supposed to be slowing down," said J.J. Kinahan, chief derivatives strategist at TD Ameritrade in Chicago.
"Next week is going to be a Capitol Hill-driven market."
Higher tax rates on capital gains and dividends are part of the automatic tax increases that will go into effect next year, if Congress and the White House don't come up with a solution to avert the fiscal cliff. That possibility could give investors an incentive to unload certain stocks in some tax-related selling by December 31.
The source said Obama sees the offer made on Friday by U.S. House Speaker John Boehner as a sign of progress, but simply believes it is not enough and there is much more to be worked out before Obama can reciprocate.
Tax rates and entitlements are the two most difficult issues in the so-far unproductive negotiations to avert the "fiscal cliff" of steep tax hikes and spending cuts set for the new year unless Congress and the president reach a deal to avoid them.
Boehner's shift did not come as a complete surprise. Recent polls have suggested little public support for his position and he has been getting pressure from Senate Republicans to be more flexible.
Disclosure: I have no positions in any stocks mentioned, and no plans to initiate any positions within the next 72 hours.