The huge problem with Libya yesterday messed up the markets. This is definitively outside influence. But it is a market reaction. Strength is still in the market. You can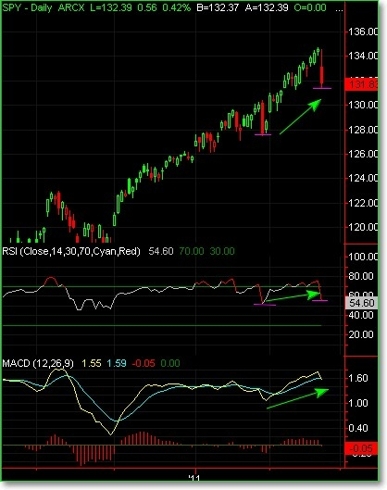 see from the down turn that the lows on the MACD and RSI are still higher than our last low. This shows that this was just a reactionary move.

We were surprised at how low the SPY dropped yesterday in reaction to Libya. This shows us just how strong the momentum was.

The turmoil in Libya heaped further pressure on stocks around the world Wednesday as investors worry that the global economic recovery may be derailed by the sharp rise in oil prices and swelling inflation. This will react negatively in the markets.

We are not worried about the drop. The markets did need a nice correction and we found it here. Now we shall see what it does as we watch Libya and the markets take this conflict into account.
Disclosure:
I have no positions in any stocks mentioned, and no plans to initiate any positions within the next 72 hours.