Technically Speaking
RSI- having recently signaled an over bought position and the combination of a short term negative divergence gives us some signs. This one is longer than the MACD so I would expect the stock to slow down very soon, or at least take a temporary dip in a long term trend.
Bollinger Bands- although the stock is still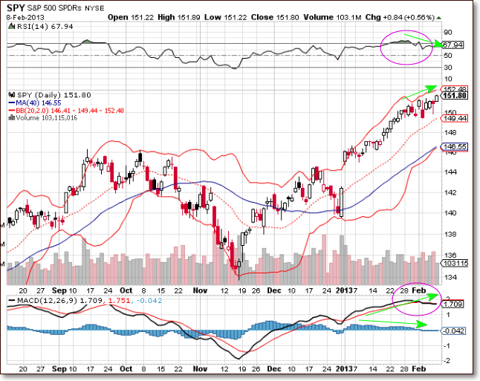 well above the middle band, I would expect the stock to move closer to the middle bands soon. It has a very slight angle toward a weaker climb but not enough yet to identify any real weakness. The Bollinger bands are still showing bullish momentum this week.
MACD- the MACD is also in recent (but mild) negative divergence, but the negative divergence within itself speaks more of a possible consolidation within the stock. The support of the RSI negative divergence supports the consolidation and a possible weakness developing more and more.
Summary- I believe bullish momentum still has the upper hand with the SPY, but I am also observing the beginning signs of a possible pullback, consolidation, or trend reversal. Honestly, I am not convinced of the idea of trend reversal, the other two would be more likely.
Current Events
On Friday, the Dow industrials virtually wiped out the week's modest losses. Yet the stalled advance underscores how initial euphoria has now given way to growing skepticism about the fundamental outlook - and by extension, the ability of stocks to set new highs.
Across the Atlantic, conditions are hardly rosier. Although most U.S. corporate earnings have surprised to the upside, higher taxes have begun chipping away at consumer spending power, making many CEOs cautious about the outlook for 2013. Meanwhile, last quarter's unexpected economic contraction is also raising the specter of a double-dip recession.
There's the matter of Washington's tortured negotiations over spending and taxes. January's dilatory "fiscal cliff" fix only postponed the day of reckoning without crafting a grand bargain. For all these reasons, market players are finding it difficult to invest in a scenario of the Dow industrial average going to infinity and beyond.
Separately, U.S. economic data showed the trade deficit shrank in December to $38.5 billion, its narrowest in nearly three years, indicating the economy did much better in the fourth quarter than initially estimated.
Earnings have mostly come in stronger than expected since the start of the reporting period. Fourth-quarter earnings for S&P 500 companies now are estimated up 5.2 percent versus a year ago, according to Thomson Reuters data. That contrasts with a 1.9 percent growth forecast at the start of the earnings season.
Disclosure: I have no positions in any stocks mentioned, and no plans to initiate any positions within the next 72 hours.