Technically Speaking
RSI- the RSI indicator continues to look very strong, as the low point has barely moved below the 50 line. Presently, as it moves up it looks like it is going to move parallel to the 70 which is the over bought indicator. But so far it is showing signs of very strong bullish moves.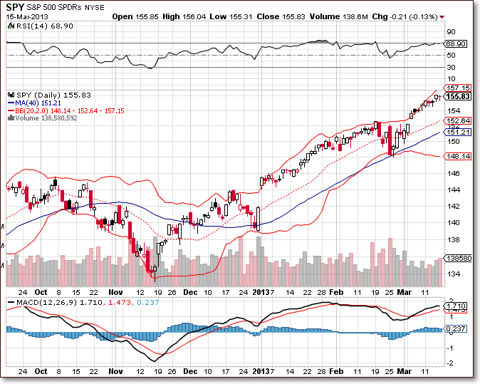 Bollinger Bands- the SPY continues the how do the upper band and it is hard to conceive how the trend could get any stronger than it is. In fact, it looks like the SPY is on the third leg swing up and I don't think it will be as long as the second leg but I still believe it's got a couple weeks to move. There are no signs of slowdown.
MACD- the MACD supports the RSI indicator, you'll notice that the low point is well above the zero line that signals bearish territory. Presently, it looks like it is moving up but may also have reached a high point. Like the RSI indicator it is supporting very bullish moves still.
Current Events
Stocks have soared in 2013, with the Dow (.DJI) climbing almost 11 percent to hit a series of new all-time highs while the S&P 500 (.SPX) has jumped 9.4 percent, falling just short of its all-time closing high after rising for 10 of the past 11 weeks. And yet, analysts for the most part see equities as fairly cheap.
Questions remain about the potential impact of U.S. budget negotiations or the Federal Reserve's plans in continuing its massive monetary stimulus. The Fed meets next week.
Taken on its own, analysts see potential for more gains in the U.S. stock market, based on metrics like earnings prospects and valuation. The forward 12-month price-to-earnings ratio for the S&P 500 is currently 13.5, which is about 9 percent less than the October 2007 ratio of 14.8 when the S&P last hit a record.
The S&P 500 is also trading well below its intrinsic value, another metric of earnings-based valuation that estimates where a security should trade, based on its expected growth trajectory over the next decade or more.
The index is seen as having a price to intrinsic value ratio of 0.85, according to Thomson Reuters StarMine, which means it would have to rise 15 percent to be in line with its earnings growth trajectory. More than two-thirds of companies are below their intrinsic value, including some of the biggest.
While the stock market's two previous peaks were followed by recessions stemming from the bursting of the dot-com bubble in 2000 and the 2008 credit crisis, there is no apparent equivalent today.
Disclosure: I have no positions in any stocks mentioned, and no plans to initiate any positions within the next 72 hours.