Technically Speaking
RSI- even though the RSI indicator continues to look healthy in bullish well above the 50 line, it still shows a negative divergence with the stock. For this reason I am still of the opinion that the market could be coming to a leveling off point in the next six weeks or so. I believe this week will still be bullish but I'm still seen signs of slowdown.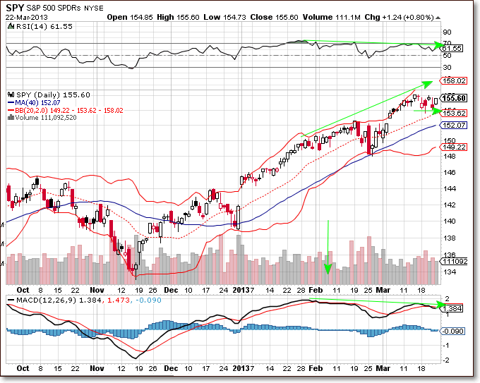 MACD-just like the RSI indicator the MACD is showing a negative divergence. Usually when the Mac D has a high point and then the highs continue to get lower that shows weakness in the present move of the stock. At the least I believe the stock is showing that it's going to eventually slowdown. By eventually running sooner than later.
Bollinger Bands- as the stock moves sideways off the upper Bollinger band, I believe this is showing us signs that it is not yet ready to move down. When I see moves like this the stock usually has more strength to continue to go up. When I see it moving down from the middle band then I will believe that we may see an actual slowdown take place.
Current Events
Cyprus
The island nation accounts for a fraction of euro zone economic output, and yet the wrangling over a 10 billion euro($13 billion) bailout package kept markets on edge throughout this past week. The S&P 500 fell for the first time in four weeks, with weakness linked to uncertainty overseas.
Euro zone leaders have offered the country 10 billion euros on the condition it raises 5.8 billion euros on its own. The rescue plan is smaller in scope than previous bailouts to euro zone members, making investors worry less about a banking collapse and more about the possibility Cyprus would exit the bloc and drop the euro currency.
The worry "is the psychological knock-on effect of the credible possibility of some (country) saying 'Cyprus got out, now they are on their own, they devalued their currency, they don't have to go through austerity'," said Art Hogan, managing director at Lazard Capital Markets in New York.
Earnings
Stocks could see another boost in the form of quarter-end "window dressing" in which money managers add outperforming stocks to their portfolios.
According to Thomson Reuters data, of the 491 companies in the S&P 500 that have reported quarterly earnings, 69 percent have topped analysts' expectations, compared with 62 percent since 1994 and 65 percent over the past four quarters.
A strong showing next week could push the index past both its record closing high as well as its record intraday high of 1576.09.
With earnings season several weeks away, only nine S&P 500 companies are expected to report quarterly results next week, including discount retailer Dollar General Corp (DG.N) and video game retailer Gamestop Corp (GME.N).
Only a few companies released results this week, but they were disconcerting. Oracle Corp (ORCL.O), the world's No. 3 software maker, fell well short of revenue expectations. FedEx Corp (FDX.N), the second-largest U.S. package delivery company, cut its forecast for the year.
Disclosure: I have no positions in any stocks mentioned, and no plans to initiate any positions within the next 72 hours.