Technically Speaking
RSI- for the second straight day, the SPY has been in the over bought region of the RSI indicator. In this region, investors usually expect the stock to pull back but that does not mean it will. It is just a sign that the stock could be slowing down that's all. In this strong upward trend I would expect it to do nothing but slowdown.
MACD- I like to watch the MACD indicator and the RSI indicator working hand-i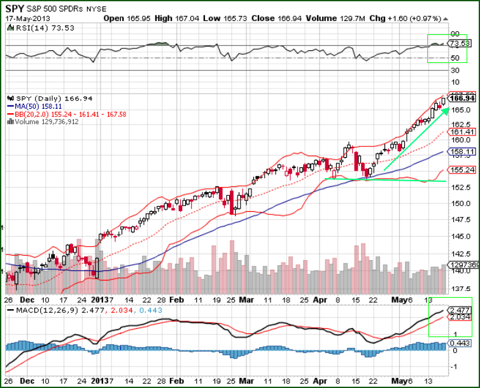 n-hand to give me tandem signals. But what I am observing here is that the Mac D still has not peaked yet and for this reason I would expect the stock to continue to move up. Before the stock moves back I like to see in over bought position and a peak in the MA's of the MACD but I have yet the sea the top so that's what I am waiting for.
Bollinger Bands- the stock continues to hug the upper Bollinger band signifying a very strong bullish move up. At this point, I would not expect the stock to slow down until I see better signs from both the RSI and MACD.
Summary- even though the trend is strong, I have also noticed that the present move up as a 45° angle and that is very strong and I do not believe that the stock will be able to continue to move this high much longer without arrest. But make no mistake it is very strong and the bullish move is not given me any signs that it will slow down yet.
Current Events
With the broad S&P 500 Index (.SPX) gliding once again into uncharted territory and posting four straight weeks of gains, the talk of Wall Street's rally inevitably hitting a ceiling is starting to get old.
As the market continues its upward move, some market participants are beginning to believe that the rally is not a bubble but rather the start of a new bull market. Others argue, meanwhile, that the strong momentum is not based on fundamentals like economic data or corporate earnings but is relying heavily on easy monetary policy from global central banks.
The CBOE Volatility Index, or VIX (.VIX), Wall Street's fear gauge, is down more than 1 percent for the week.
Even at these levels, a popular options gauge shows investors are placing optimistic wagers on the stock market, positioning for the current run-up to extend for the next three months.
Earlier this week, the Credit Suisse Fear Barometer, known as the CSFB Index, fell 11.4 points over the past two weeks - the largest decline on record - and is now at a one-year low of 21.73.
Disclosure: I have no positions in any stocks mentioned, and no plans to initiate any positions within the next 72 hours.