Technically Speaking
RSI- last time the RSI indicator touch the 50 day moving average, it defined below. This touch was just under the 50 line in that it bounced back up. This is the pattern it had the last three times in a row for the SPY and if it does it again I believe the stock will continue to move up. But you have to wait and see on this because it doesn't look like the RSI is finished moving down yet.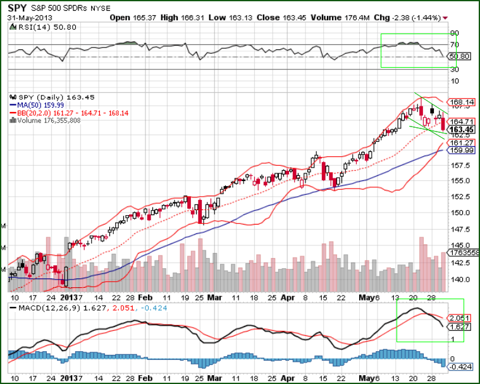 MACD- after the same manner, the MACD indicator defined a top and then started to move down but the moving averages do not look like they're finished moving down yet. In fact, it looks like they're still spreading apart which is an indication to me that as the week progresses there still going to move down.
Bollinger Bands- I would expect the stock to move down and touched the lower Bollinger band. I believe it could happen this week and I wouldn't be surprised if it took a bounce move back up and came back down and tested it again. I am looking at a combination of the lower Bollinger band and the 50 day moving average to see what the stock does in terms of defining a support level.
Summary- there is no doubt the stock still looks like it's moving down. In fact in my observation it looks like the stock has not yet found a base in this wooded searching for. If it's going to move back up eventually I don't believe it's going do at this coming week because the momentum is still bearish in the short term.
Current Events
Standing conventional stock market wisdom on its head, investors may wish for weaker-than-expected employment numbers next Friday. A strong jobs report could prompt an early end to the Federal Reserve's policy of pumping money into the banking system to rescue the economy and set off the stock market's long-awaited pullback.
The Fed's loose monetary policy since the end of 2008 has kept interest rates low and propelled stocks to record highs.
To be sure, better-than-expected jobs data would be evidence of strength in the economy, a positive for the market in the long run, so any pullback could be short-lived.
A rotation out of high-yielding dividend stocks has already begun because of the rise in U.S. Treasury bond yields.
Dividend stocks had been among the market's leaders for much of this year's rally as investors favored those shares over fixed-income securities in a low interest-rate environment.
A preview of the jobs picture will come on Wednesday with the release of a report from payrolls processor ADP. Economists polled by Reuters have forecast that the ADP data will show private-sector employers added 165,000 jobs in May, compared with 119,000 in April.
Disclosure: I have no positions in any stocks mentioned, and no plans to initiate any positions within the next 72 hours.