Technically Speaking
RSI-the RSI indicator has defined its last top at the 50 line. This is not good for a long term trend for the SPY because it's signifying that the strength cannot get over that line which defines bulls and bears. The RSI continues to support and follow the stock down.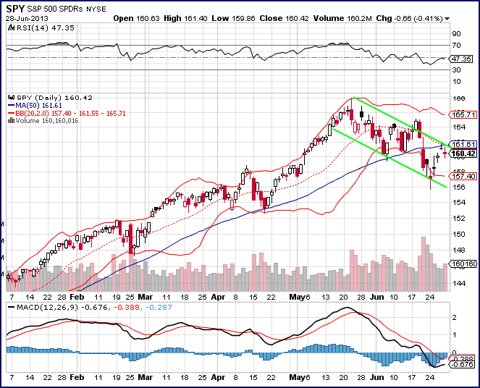 MACD- even though the MACD indicator has now form the bottom it is going to be important to see if it can even push itself above the zero line. If they cannot do this, we will see the stock to continue to move down until it can define a bottom.
Bollinger Bands- the most striking observation I can make here is that the middle Bollinger band appears to be resistance now. If this holds the case it looks like the stock is in a prolonged downward trend.
Summary- right now I am and have to conclude by my observations that the stock is can it continue to move down and not move up.
Current Events
Trading volume is likely to be thin, with a half-day session on Wednesday and markets closed for the Independence Day holiday on Thursday. Both the Labor Department's weekly jobless claims and employment report for June will be released at 8:30 a.m. (1230 GMT).
We will probably see more hedging activity early next week and perhaps higher intraday swings as people try to figure out their option positions going into the holiday with the employment report due the next day.
June's employment report could offer clues on the timing of the Fed's eventual tapering of its bond purchases. Non-farm payrolls are expected at 170,000, below the 194,000 six-month moving average. The unemployment rate is seen dipping to 7.5 percent from 7.6 percent.
Manufacturing will also be in the spotlight next week. The Institute for Supply Management is expected to report on Monday that factory activity expanded in June after a surprise contraction in May. The European Central Bank, which also holds its monetary meeting on Thursday, is not expected to change rates, but President Mario Draghi may discuss just how much longer the ECB will stick with extraordinary policy settings.
Disclosure: I have no positions in any stocks mentioned, and no plans to initiate any positions within the next 72 hours.