Direction- the SPY is still in a trading range, but has a bearish lean..
Bollinger Bands
- the ETF SPY is trading in a wide volatile band width. It moved in toward the middle band but it continues to slant bearish and follows the bottom band downward. For this reason we still have to give it s bearish lean.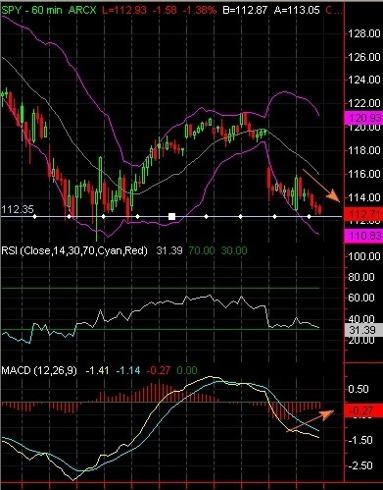 RSI- the SPY really has no sign here of turning around. The only anomaly we see is that with all this downward movement, we have yet to break the '30'barrier. Under here, we are over sold and should move up soon. This being said, it is not good for bulls because there is no sign of being over sold and thus still we must give it a bearish lean..
MACD- with the SPY falling, the MACD is still leaning down. It appears to not have yet reached its low point so screams bearish. The histogram is consistently below '0' also showing us the strength of the bear. If there is a light it may be in the fact that the bars have been inching their way upward while the chart moves down. This could be a possible positive convergence taking place.
Chart
- there is no doubt we are still headed down. That being observed, we are at the bottom of a possible trading range with support at about 112.35. It is a good support level. We can see two possible supports for this. First, the MACD Histogram shows possible strength in the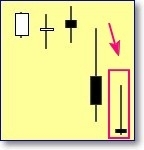 positive convergence. Secondly the short term daily candlestick patterns reveal what is called a "high wave" and this implies a loss of sense of direction and indecision. It does not really know if it will continue down or move up at this point.
Outside Market Influences-
The president of Stack Financial Management, Jack Stack, declares that he's not ready to declare the bull market over yet. The indicator he likes to use aren't screaming Bear Market and he is not convince we are entering a new recession. The indicators Stack looks at most, the Conference Board's Leading Economic Indicators (LEI), actually have been hitting new highs. "If we're going back into recession, then why hasn't this LEI fallen six to 12 months prior to this recession, as it has in every instance in the past 50 years?," he asked.


While it would seem that moms and pops and the average punter out there are running out of the equity market and into the "safety" of US Treasuries, corporate insiders appear to be doing the exact opposite. This is yet another bullish contrarian sign.