Technically Speaking:
RSI- the recent move up the RSI indicator has just touched the top of the 70 line that indicates an over bought position. It is not as high as the last high point, and this is good because it means that the stock can continue to move.
MACD- the MACD indicator is starting to move sideways instead of moving down just like I predicted it might. This is why the stock continues to now move up instead of going down. Since this particular peak is more of a plateau it gives the impression that the stock will continue to move up in early August.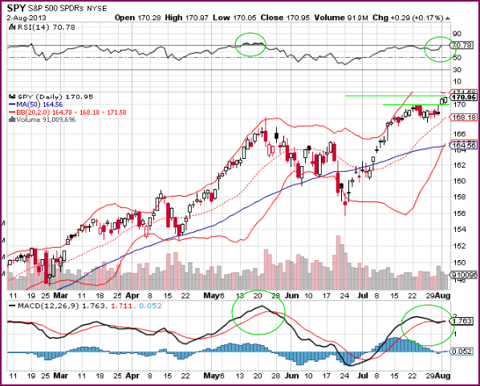 Bollinger Bands- The last observation I made about the Bollinger bands, I was wondering whether we have found a top or whether it would continue to move up. The last two days of last week the stock moved up and answered our question and now momentum is siding with the Bulls.
Summary- all momentum looks like the stock is going to continue to move up, the RSI indicator and the MACD indicator point to this and since the stock is moving sideways with a bullish lean in the Bollinger bands, it also looks like in the same stock is can it continue to move up.
Current Events
The earnings season so far has been largely positive with more than half of the companies that have reported beating estimates. But cuts in outlooks from a number of bellwethers, including Intel (INTC.O) and Caterpillar (CAT.N), mainly due to increasing concerns over China's growth, have raised fears about the third and fourth quarters.
The market is also likely to trade sideways next week after the Dow and the S&P 500 marked record closing highs for a second day on Friday.
Of the 391 companies in the S&P 500 that have reported earnings for the second quarter, 67.8 percent have topped analyst expectations, in line with the average beat over the past four quarters, data from Thomson Reuters showed. About 55 percent have reported revenue above estimates, more than in the past four quarters but below the historical average.