One of the characteristics of the average investor and trader I run into is the linear thought pattern. Most investors and traders are bullish-minded and have a hard time trading the market when it is going down. Of course, this presents itself as a very limiting factor as the market does go up and down, and there is ample opportunity to make money in both directions. But we do have ETF's that focus on making money when the market is going down, and this should help the average investor be able to make money regardless one market direction. One of these Exchange Trade Funds is ProShares UltraShort S&P 500 (SDS).


The SDS investment seeks daily investment results, before fees and expenses, which correspond to twice (200%) the inverse (opposite) of the daily performance of the S&P 500®. The fund invests in derivatives that Proshare Advisors believe should have similar daily return characteristics as twice (200%) the inverse of the daily performance of the index. It invests typically the rest of the assets in money market instruments. The fund is non-diversified.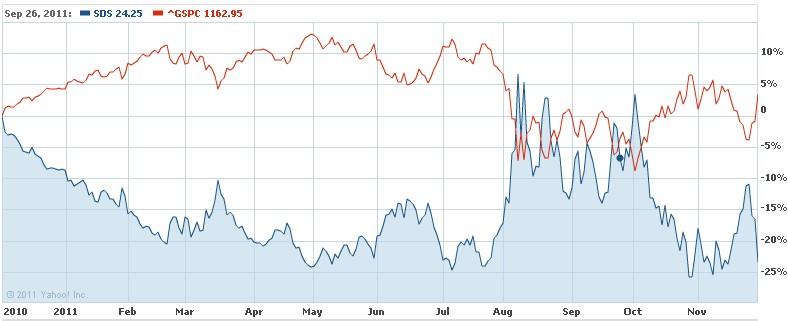 Notice how it moves opposite the S&P 500. If a trader or investor is linear minded and can make money better by just thinking bullishly, then this is a good ETF to use.

Using options in the SDS can make a trader good money by following a few simple ideas. First of all, listen to current events, news, and economic data reports coming out. Know what is going on and when things are taking place can be critical to one's success with this ETF. Sometimes news and events will cause the markets to move in a bearish direction. Keeping abreast of these things can help make money in the SDS while the S&P 500 moves down.

Remember, as it moves, it moves at twice the direction opposite the S&P 500. If news is not good, or events transpire in such a way as to influence the markets negatively, buying a call in the SDS will make you money because it will increase in value as the markets go down.

Another good strategy would be to identify a down trend in the S&P 500. if you believe it is consistent and strong enough, you can either buy straight calls or put together a bullish vertical spread trade. This allows a trader to focus on a bullish trend even though the markets are moving bearishly.

Watch for the S&P 500 and identify a bearish trend. Keep SDS in your watch list and use it to make money when the market is trending down with a bullish options play.
Disclosure:
I have no positions in any stocks mentioned, and no plans to initiate any positions within the next 72 hours.