Microsoft is one of those iconic staulworths from our past that many look to for long term investment opportunities. With earnings coming up, we are finding that MSFT is not one of the favored companies to put money into at the present. MSFT still holds opportunity. There are ways to make money with this stock this earnings season.
Microsoft Corporation (NASDAQ:MSFT) develops, licenses, and supports a range of software products and services for various computing devices worldwide. The company's Windows & Windows Live Division segment offers PC operating system that primarily includes Windows 7 and Windows Vista operating systems; Windows live suite of applications and Web services; and Microsoft PC hardware products.
If you are reading up on MSFT you are learning a number of things. Microsoft is a cash rich company but most of that money is overseas and if it is brought here, Uncle Sam will tax it at a 35% rate. For this reason it remains overseas. Dividends could also be drying up in the future and not increasing like that has unless MSFT can produce more money here in the USA. These observations are from a really good article by Stephen Roseman from Seeking Alpha.
Yet, MSFT has been solid as a company in the past. . Just this year, MSFT boosted its dividend by 25% and has identified the need to make sure it remains a priority. Investors are getting smarter and dividends will become increasingly important for companies like MSFT. CFO Peter Klein acknowledged this when he told analysts in a meeting last year that Microsoft's balanced approach to capital allocation will always remain focused upon: "includes investment in its markets, acquisitions, share buybacks and dividends"
MSFT may not be on the top of most investor's lists right now, yet for those who know how to find opportunity, MSFT is ripe with it!
I would not recommend MSFT for a long term investment at this time but I do think it may offer really nice money making opportunities with options. MSFT is range bound, and has been for almost 24 months now. It has traded between 23 and 30 during this time period. A perfect strategy for MSFT would be a Long Iron Butterfly, pieced together using the Bollinger Band indicator as a reference point for making trades.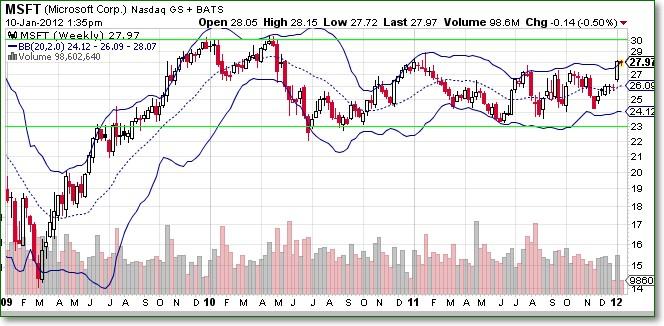 If I may simplify this type of strategy, a Long Iron Butterfly is an option strategy from range bound stocks. It is a combination of two vertical credit spreads used together. A Bull Put Spread and a Bear Call Spread make up the Butterfly strategy. It takes the shape of a butterfly when the higher strike put shares the same strike as the lower strike call. Since these are both 'income strategies' the Long Iron Butterfly will also be considered an income strategy.
Using the Bollinger Bands as resistance and support points for reference, a trader may build one leg at a time. Depending on where the stock is, defines what leg to start with. If the stock is bouncing off support, a Bull Put Spread may be initiated and when it rebounds off resistance the other leg, a Bear Call Spread can be set up completing the butterfly formation.
MSFT as an Example of a Long Iron Butterfly.
We can see that MSFT is presently trading at the top of the Bollinger Band around 27.91. Using weekly options, we take into account the trading day and the movement of the stock. On an average, MSFT moves about .35 points per day. If we have three trading days left, that means we can expect it to possibly move 1.05 in a consistent direction up or down until the end of the day on Friday.
We will create our first leg as Bear Call Spread (anticipating MSFT bouncing off resistance)and taking into account its movement. Selling the January 30 call (expiring 1/21/12) and buying the January 31 would give us a 2% credit. If we were going to create our second leg, we would sell January 26 put and then buy the 25 for a 4% credit. This example is an easy way to create an income off a stock like MSFT that is range bound.
Disclosure: I have no positions in any stocks mentioned, and no plans to initiate any positions within the next 72 hours.