With the economic down turn a couple years out, we see some of the companies that were hit now on the rebound. As we search for companies to rebound we like to look into the future and see what the near future holds. Caterpillar is one of these companies that tread its way through the world economic turn down and has been on the rebound. We look at its growth potential for 2012 and advise on investing now.
Caterpillar Inc.(NYSE:CAT) manufactures and sells construction and mining equipment, diesel and natural gas engines, industrial gas turbines, and diesel-electric locomotives worldwide. It operates through three lines of businesses: Machinery, Engines, and Financial Products. The Machinery business offers construction, mining, and forestry machinery, including track and wheel tractors, track and wheel loaders, pipe-layers, motor graders, wheel tractor-scrapers, track and wheel excavators, backhoe loaders, log skidders, log loaders, off-highway trucks, articulated trucks, paving products, skid steer loaders, underground mining equipment, tunnel boring equipment, and related parts.
Revenue Growth through International Sales
CAT continues to be alluring to investors. Not only does it continue to have a respectable dividend for investors but management has projected nice growth for 2012. Year end to year end, its EPS is expected to increase 33% to $9.06 by December. Analysts have all revised its EPS upward. They are also predicting a 15% growth in revenue this year. (Figures from Yahoo finance)
We believe this growth will continue as CAT continues to focus on the demand for infrastructure in the emerging markets for sales and growth. It is focusing on China which continues growing. This refocusing to international infrastructure is one of the main reasons CAT will continue to grow. For growing international infrastructure in places like Mexico, China, and India, the value of a piece of heavy machinery like CAT can bring will enhance the economic climate of each community in these developing countries. If a town get's one new tractor it if far more meaningful and will enhance agricultural growth far more than a town that already has 10 tractors. For this reason watch CAT continue to grow internationally.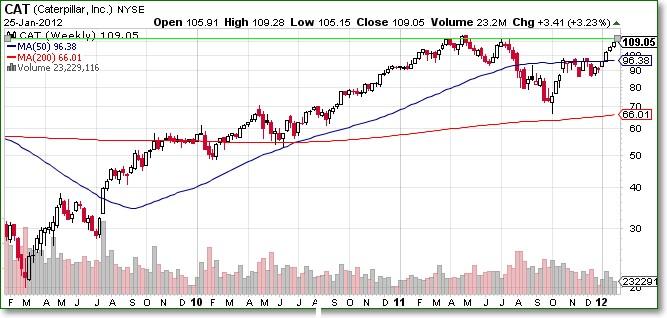 CAT is not without Challenges
Internationally, there could be regional competitors that rise and attempt steep discounting strategies to move their equipment instead of Caterpillar's. If this takes place, it could be a challenge for CAT to match price, cutting into revenue growth. In the United States, Real Estate is a large part of its equipment sales when building new subdivisions takes place. Since 2008 we have been in a Real Estate slump so the US housing market will continue to have influence on CAT's finances here at home. World economic recovery and sovereign debt woes in Europe will also play an important role in its ability to continue to grow.
Analysts are expecting CAT to possibly climb to 135 which is a 25% growth. This is a good growth perspective for CAT but we are leery of the 110 level that has so much resistance. But we do believe that it should have no problem pushing right up through and continuing to move up.
Disclosure: I have no positions in any stocks mentioned, and no plans to initiate any positions within the next 72 hours.