Windows Server 8 is expected to come out this year. It is quite a change from the systems. Will this change be a fire ignited under Microsoft's stock or will it be too radical a change too fast?
Microsoft (NASDAQ:MSFT) by revenue, Microsoft is the world's largest software maker. Having well rounded divisions, its greatest revenue producer continues to be it's business sector. It accounts for about 32% of the companies revenue with 90% coming from Microsoft Office Systems. With the introduction of its latest system, Microsoft is expecting big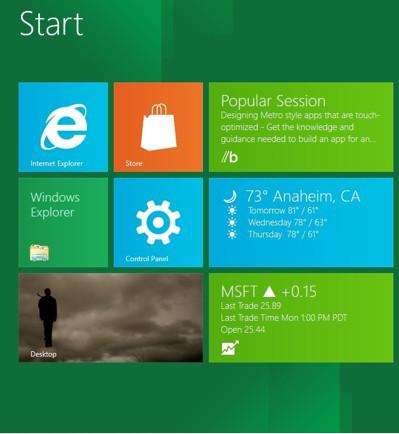 things.
Drastic Changes to Windows Server 8
"Server 8 will unleash a massive tsunami of new features," wrote Jason Perlow, a reporter for ZDNet. He did a favorable review of Windows 8. He attended a two day work shop as an introduction to Window's 8. He goes on to write: "By the end of the second day at the Windows Server 8 Reviewer's Workshop I was literally ready to pass out from the sheer amount of stuff being shown to us"
I have no doubt about the innovation and ability of the new Windows 8, but from a practical standpoint, I am wondering how the average rank and file worker will handle the new system. There will still be an 'old form' interface, but the radical move away from the old form is very apparent. Will the average worker have the patience to learn a whole new system?
Windows 8 adapts some familiarity to smart phones for people and Metro features are designed for touch screen devises. The problem I see is corporate American employees are still tied to keyboards and a mouse. One software writer on the web made this statement:
"Nearly half of all PC users are still running decade-old Windows XP software; Windows 7 is still young and very good. Unless you're ready for a touch-screen machine, there's little reason to choose Windows 8."
So the big question is: is Windows Server 8 too radical a change for corporate American in 2012? Windows has been an operating system that made navigation easier for computer users. The change that has come with this new system may be a bit to radical for the average computer user ands may take quite awhile to catch on to.
It might be more tablet friendly and may be big business is learning that this is the way things will go in the future. Away from the desk top computer and toward the tablet and phone tech boom. But we have a whole culture still tied to the desktop computer.
Moving this radically away from the traditional windows systems could be a boon or a bust for Microsoft. We will see if corporate America embraces the radical change so quickly.
Disclosure: I have no positions in any stocks mentioned, and no plans to initiate any positions within the next 72 hours.