Short Term Daily Trade Outlook
Bollinger Bands- without drop yesterday, we are at a critical point of support and also what could be the beginning of a bearish slide. Time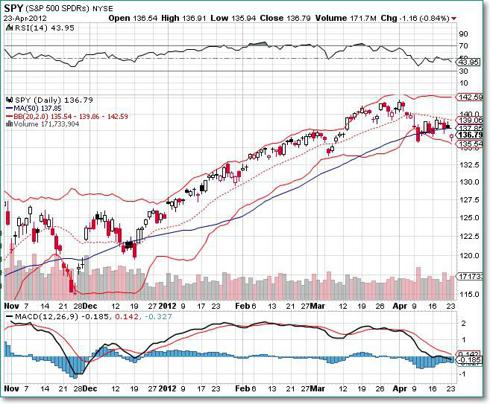 will tell as we can see that we are in a bearish mode since the beginning of April.
Current Events-
Facebook Inc reported its first quarter-to-quarter revenue slide in at least two years, a sign that the social network's sizzling growth may be cooling as it prepares to go public in the biggest ever Internet IPO.
World stock markets rose modestly Tuesday following sharp losses the day before as investors looked to the Federal Reserve for new steps to help the U.S. economy.
News about Europe's debt crisis continues to overshadow markets with stocks swinging between positive and negative territory from one day to the next.
Strong headwinds have been emanating in recent days from Europe, where a festering, two-year debt crisis has begun jolting the region's political landscape.
The Dutch government collapsed Monday, while a Socialist who wants to put France's austerity plans in reserve looks set to unseat conservative President Nicolas Sarkozy in elections next month.
Meanwhile, a new report showed that European government debt is piling up despite severe budget cuts. A separate survey of manufacturing and services in countries that use the euro unexpectedly fell in April to a five-month low of 47.4, down from 49.1 in March. A level below 50 means contraction.
Disclosure: I have no positions in any stocks mentioned, and no plans to initiate any positions within the next 72 hours.