Short Term Trade Analysis
RSI- the SPY is over the '50' mark and appears to be moving with the stock as it continues to attempt to inch its way up. Looks like it is climbing higher on short term strength and this is a good thing for a bullish market.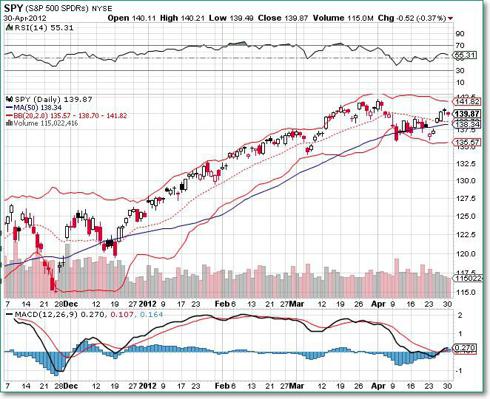 Bollinger Bands- we are through the middle band and slowly inching higher. As the RSI shows strengthening of the move, we want to see the SPY stay above the middle band. This will be important to a continued move up.
MACD- we have the short term MA crossover we were waiting for. And we are above the '0' mark on the MACD Histogram. Can we continue up. Everything looks mildly bullish for a start.
World Events-
BP PLC saw its first-quarter net profit fall by 18 percent as its downstream business, which sells fuels, lubricants and fertilizer, struggled.
The company also announced Tuesday that it intends to sell its stakes in several assets in the Gulf of Mexico which it regards as non-strategic.
Bloomberg's Dominic Chu reports on why the strategy of sell in May and go away may not be good for this year as markets generally do well in the summer of a presidential election year.