Current Events Influencing Markets
Stock index futures fell on Wednesday, mirroring European shares on concerns over the teetering state of Spanish banks.
Spain will demand banks set aside another $45 billion against loans to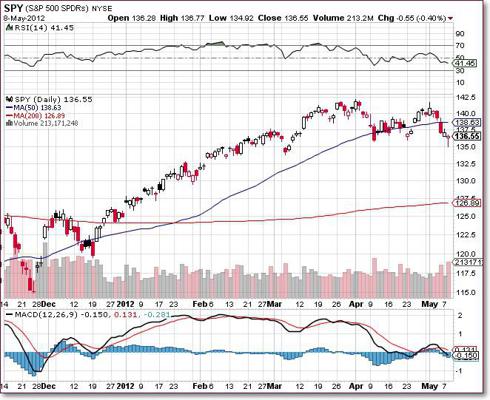 builders as it battles to rebuild confidence, sources told Reuters. Huge bank losses have raised fears the country may need an international bailout.
Possible fallout after elections in Greece has also dented sentiment. Leftist leader Alexis Tsipras was to meet the heads of Greece's mainstream parties Wednesday to try to form a coalition government. But the effort was not expected to succeed after he demanded they first agree to tear up the country's EU/IMF bailout deal.
"Political turmoil in Greece raised concerns that the nation may not implement austerity measures and worsen Europe's debt crisis," Ken Kajisa, an analyst at broker ACE Koeki Co. in Tokyo, said by phone. "Risk aversion by investors increased, leading to sales of industrial commodities."
Disclosure: I have no positions in any stocks mentioned, and no plans to initiate any positions within the next 72 hours.