Current Events---
Stock index futures rose on Tuesday, rebounding as investors sought bargains in beaten-down sectors.
The S&P 500 index fell four of the past five sessions, closing on Monday at its lowest level since February. Concerns about the situation in Europe have been a primary mover for the weakness.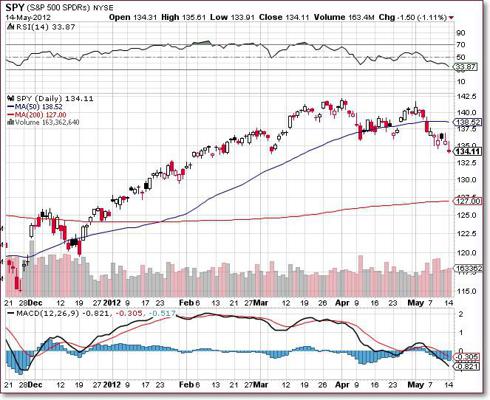 Greece possible exit from the euro zone was an especially troublesome issue, though German export data was surprisingly strong. European shares (.FTEU3) fell 0.1 percent.
European markets bounced back from earlylosses on news that the 17-country eurozone has narrowly dodged recession, thanks mainly to strong growth in Germany, though concerns persisted that Greece political impasse could eventually force it to leave the currency bloc.
Official EU statistics showed the eurozone economy was flat in the first quarter compared with the previous three-month period, better than the 0.2 percent drop thatanalysts had been expecting. A drop would have put the eurozone technically back into recession, which is defined as two consecutive quarters of economic contraction.
The $2 billion trading loss at JPMorgan Chase has renewed calls for stricter oversight of Wall Street banks. Two years after Congress passed an overhaul of financial rules, many of those changes have yet to be finalized.
JPMorgan's misstep gives advocates of stronger regulation an opening to argue that regulators should toughen their approach.
The Obama administration has argued that it went as hard on banks as possible without further upsetting global finance. Now Democratic lawmakers and administration officials say JPMorgan case proves that more change is needed.
Disclosure: I have no positions in any stocks mentioned, and no plans to initiate any positions within the next 72 hours.