Around the World Affecting the Markets
Asian stocks struggled for firm footing Friday as investor nerves were tested by fizzling economic growth in China, but European markets headed higher as traders kept fingers crossed that Greece would avoid financial chaos.
Italian Premier Mario Monti's comment Thursday that Greece was likely to stay in the euro currency union helped buoy Europemarkets, said Stan Shamu of IG Markets in Melbourne in an email. But he added that "perhaps we are just really tired of hearing how bad things are and just needed something to uplift."
Tyson, who also served on President Obama's jobs council, presumes the U.S. economy can withstand a recession in the EU. But she worries about "the possibility of some dramatic seizure of capital markets" due to a Greek exit from the euro.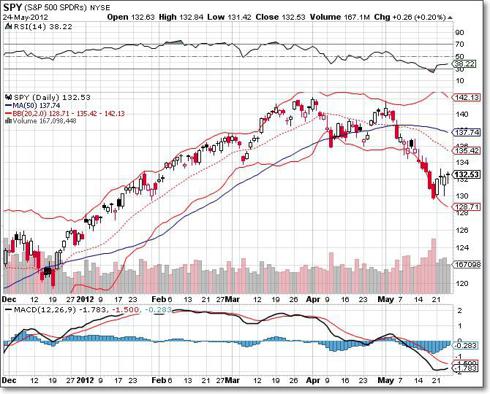 "The biggest danger to the world economy is a disruptive, disorderly exit from Greece, which causes a major seizure of credit markets in Europe," Tyson says. "You can't rule out the possibility of some dramatic seizure of capital markets, that's the great risk. It's not the recession itself."
At least half of euro zone governments as well as banks and large companies are making contingency plans in case Greece decides to leave the single currency area, even though the preferred option is still for Athens to keep the euro.
Stocks ended slightly higher in a third session marked by late-day swings, but the Nasdaq fell afterNetApp gave a weak revenue forecast, casting doubt on the outlook for tech spending.
Major indexes were lower for much of the session, as investors found little reason to buy following three days of gains. In addition, economic figures suggested slowing demand in both Europe and the United States.
Disclosure: I have no positions in any stocks mentioned, and no plans to initiate any positions within the next 72 hours.