Daily Trading Analysis
RSI- yesterday was a good push up and it continues with momentum on a hammer candle stick. We are getting closer to the '50' mark and that is what we are looking for to move bullish. Cautiously optimistic!
Bollinger Bands- we are getting very close to that pivotal 20 day MA middle band. We want to see if it is using the middle band to bounce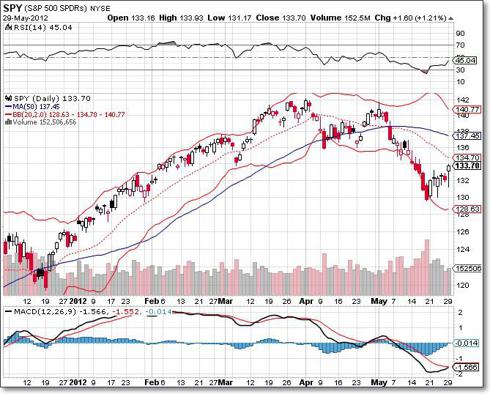 back or push through. If we are in a bearish long term move, this is a crucial point. If we push back it indicates a strong bearish move.
MACD- that last drop was so fierce we are just now getting ready to make an upturn in our MA's. We are barely over the '0' line on the MACD Histogram. Barely!
Current Events
Spain's borrowing costs lurched higher and the Madrid stock market hit a nine-year low on Wednesday as investors rattled by deepening fears about its banking system fled to the relative haven of German bonds.
Spain's banking woes - the result of a burst property bubble aggravated by recession - have combined with growing uncertainty about Greece's survival in the euro zone to reignite Europe's sovereign debt crisis, driving the euro to a two-year low of $1.2454. European shares also extended their fall after Italy paid heavily to sell bonds.
Stock index futures dropped on Wednesday, as rising bond yields for Italy and Spain indicated worsening fears about a spiraling of the euro zone's debt crisis.
Disclosure: I have no positions in any stocks mentioned, and no plans to initiate any positions within the next 72 hours.