SPY Trading Analysis
RSI- presently surfing at about 37.60 the SPY continues to form a straight line while it tried to keep itself out of the bottom of the over sold arena. It has hit a peak and now is trying not to go back down again. Its hard we shall see what it does-- but it has a straight line base we will watch and see if it holds.
Bollinger Bands- just as we suspected (and did not wish to see) if you are bullish is the SPY bouncing off the middle band. This does nothing but strengthen the bearish case for the stock. But it does look like a base may have formed. We will see next week.
MACD- ha ha from every indication, it looks like the SPY has flat-lined. looks like the MACD has declared it dead. A nice metaphor considering its performance.
Current Events
U.S. employers created 69,000 jobs in May, the fewest in a year, and theunemployment rate ticked up. The dismal jobs figures could fan fears that the economy is sputtering.
The Labor Department also says the economy created far fewer jobs in the previous two months than first thought. It revised those figures down to show 49,000 fewer jobs created. The unemployment rate rose to 8.2 percent from 8.1 percent in April, the first increase in 11 months.
Dow Jones industrial average futures, which were already down 100 points before the report, fell an additional 100 points within minutes of its release.
The yield on the benchmark on the 10-year Treasury note plunged to 1.46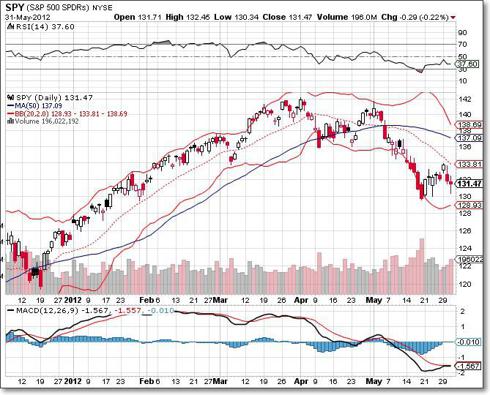 percent, the lowest on record, suggesting investors are flocking to the safety of U.S. government bonds.
Ireland on Friday appeared headed toward adoption of the European Union's fiscal compact, but stocks fell and the dollar rose by midday in Europe after data showed unemployment in the euro zone rising to a record.
The jobless rate in the 17-nation euro zone reached 11 percent in March and April, the highest since the start of the data in 1995, Eurostat, the European statistical agency said in Luxembourg. The previous record had been 10.9 percent in February, Eurostat said, after it revised March's figure upward from the 10.9 percent initially estimated.
"We have an economy that's freezing up, it's clearly not creating jobs," Peter Dixon, global equities economist at Commerzbank in London, said. "But right now policy makers' main concern is to ensure that the peripheral countries' governments and banks can stay afloat. Given that, the real economic data is taking a back seat."