Daily Trade Analysis
RSI- the signal we were waiting for has panned out. We are going to be hitting the over sold area soon. In fact we are technically in it and I expect the SPY to stay there for a bit. I am not looking for any move up at all right now.
Bollinger Bands- the SPY did bounce off the middle band as a defined resistance point. And this has established a strong bearish move. As it bounces off and continues down, we may see a slide now down the band for a while longer.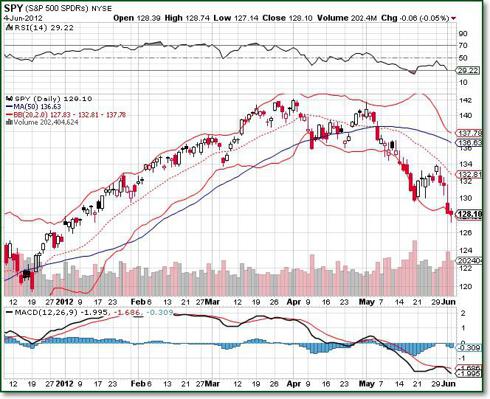 MACD- we are not going to see a bullish crossover on the MA's soon, that's for sure. If we look at the MACD Histogram, it also looks like it is getting ready to continue to move down for a few more days. This recent decent is by no means near over.
Current Events
Stock index futures fell in a choppy session on Tuesday as traders positioned themselves ahead of emergency talks among the Group of Seven industrialized nations to tackle a deepening euro zone crisis.
German debt prices rose and Spanish bond yields briefly jumped after Spain's treasury minister said the country was effectively shut out of the financing market.
Spain warned Tuesday that the moment was nearing when it would be unable to borrow in the bond market without help from its European partners, as reports said Group of 7 finance andcentral bank officials were preparing to hold a conference call later in the day to discuss the crisis in Europe.
"The risk premium says Spain doesn't have the market door open," Treasury Minister Cristóbal Montoro told Onda Cero radio, Reuters reported. "The risk premium says that as a state we have a problem in accessing markets, when we need to refinance our debt."
US Sales is Down because of Europe
As the European crisis intensifies, a growing number of companies in the United States are warning investors that sales in the region are slowing and could get much worse.
In the technology industry, one of the most exposed to Europeand an engine of the American recovery, Cisco, Dell and NetApp have all recently pointed to unexpected weakness in European sales. Other areas with major exposure to the Continent, including automakers and industrial companies, are beginning to voice similar cautions.
Disclosure: I have no positions in any stocks mentioned, and no plans to initiate any positions within the next 72 hours.