Daily Trade Analysis
RSI- not much movement yesterday and I guess the gap up did nothing to push us into bullish territory. Thank you Mr. Bernacke for the news. He did not say anything bad. And I do not know why the markets reacted negatively to his remarks about not another stimulus. It is better for the markets to develop without government intervention.
Bollinger Bands- well, the SPY did push through the middle band, but it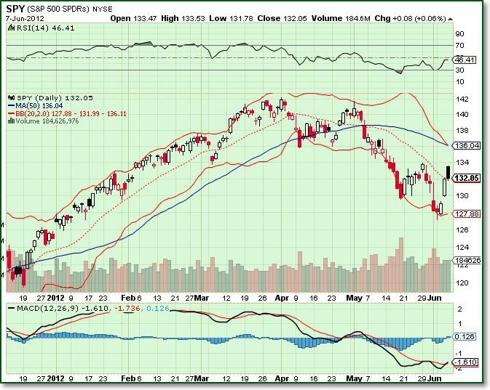 was on a gap up and then it moved back down. Interestingly enough, it ended where it rested the day before. So I am not sure I would consider this a push through the band. Almost a wasted day that tells us nothing.
MACD- the SPY just slightly turned up crossing the short term MA's and we also have the MACD Histogram barely pushing into bullish territory. But again, the desire is there but yesterday was by no means convincing. We need more proof before we would declare anything bullish.
Current Events
Spain will climb down from its tree and seek financial aid to prop up its ailing banks, Reuters reports. An announcement will probably come after a conference call on Saturday between eurozone finance ministers. Yesterday Fitch downgraded Spain by three notches too BBB from A.
Stock index futures fell on Friday after an expected new round of monetary easing failed to materialize, leaving investors to chew over the slowing global economy and Europe's ongoing debt crisis.
Greece's economy shrank further in the first three months of 2012, shriveled at a yearly rate of 6.5 percent against a backdrop of painful wage cuts, tax hikes and record unemployment.
Painful budget austerity has deepened Greece's economic malaise, turning voters away from mainstream political parties that backed a European Union/International Monetary Fund rescue deal.
Disclosure: I have no positions in any stocks mentioned, and no plans to initiate any positions within the next 72 hours.