Current Events
Stock index futures fell on Wednesday as investors found little reason to buy following steep equity gains in the previous session and as uncertainties persisted from Europe.
Markets have been volatile this week, with the S&P moving more than 1 percent for the past two trading days. Anemic trading volume has amplified the moves, which have largely been dictated by t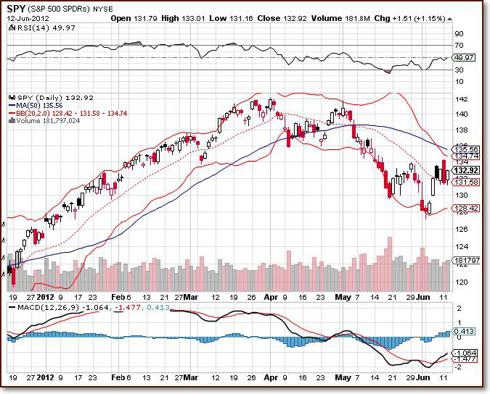 he news flow from the euro zone.
How is it that a small nation with only 11 million people and an economy not even one-tenth of the United States could be so important?
Because the stability of the global economy hangs in the balance as Europe awaits the results of the Greek presidential election on June 17. The election is seen as a proxy for a much larger question: Do the Greeks want to stay inthe euro zone - or not?
What's more, unlike Italy and Spain, the current subjects of the bond markets' ire, Greece is sufficiently small that it can fail without great consequence. The flipside of 'too big to fail,' is 'too small to matter.' In the U.S., hundreds of small banks failed without taxing the FDIC deposit insurance fund or threatening the system, but behemoths like Citigroup and Bank of America had to be saved at all costs. In today's world, whether you're a company, a business, or a government, you can only go bust if those to whom you owe money can afford it. The world has gotten to a point where it can afford to let Greece go completely tapioca, even if it doesn't like the consequences. But the same can never be said for Spain and Italy, the 10th and 13th largest economies in the world, respectively.
Disclosure: I have no positions in any stocks mentioned, and no plans to initiate any positions within the next 72 hours.