Current events
Yields soared in Spain's latest bond auction, in which it sold €3.04B in 12- and 18-month debt. The average rate on the 1-year paper spiked to 5.07% from 2.99% at the previous sale in May, while the yield on the 18-month jumped to 5.11% from 3.3%. The rate on the 12-month is the highest since 1997. The sale came amid a report that a second,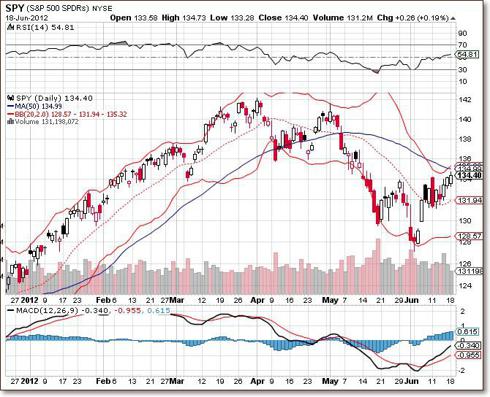 more detailed audit of Spanish banks has been delayed until September from July.
Net Worth Drops
Americans' net worth collapsed in recent years, but don't blame the housing market for it all.
New Census Bureau data shows that median household net worth, excluding home equity, fell by 25% between 2005 and 2010. That decline was driven largely by the plummeting stock market, which devastated Americans' portfolios and retirement accounts.
Futures Up Early
Stock futures edged higher on Tuesday as investor hopes for central bank stimulus measures rose after tepid German economic data and ahead of a two-day policy meeting of the Federal Reserve.
German analyst and investor sentiment dropped in June at its fastest rate since October 1998, indicating the euro zone's strongest economy may be vulnerable to the effects of the region's debt crisis.
Disclosure: I have no positions in any stocks mentioned, and no plans to initiate any positions within the next 72 hours.