International Business Machines (NYSE: IBM) is one of those companies with a great global strategy that I consider a good long term buy and always look for short term income plays. With the present pattern I see, I believe I have found a very short long term income play.
Remember I said I like the company for a long term investment also? This is one of the reasons I do. IBM has a fantastic long term global expansion strategy. here is one example how they are well positioned (and continue to expand) in China. When the Chinese economy continues to grow again, so will IBM's revenue base.
Sales Strategy in China
IBM in China is opening up two more offices in China as it continues to expand there. The two new branch offices will be in the cities of Yantai and Yinchuan with 50 locations now! IBM has a well thought out plan on how they open branches around the country. IBM establishes a geo expansion program, moving its operations in to emerging high growth regions. It continues to explore new areas that it considers untapped markets in second and third tier cities. This enables to company to move into areas and form a presence before other international players show up.
The two cities historically were agricultural but with the growth in China, there are emerging services and manufacturing sectors driving new IT sector growth. These businesses are modernizing and turning to technology to be able to complete on an international level as well as run more efficiently. Then is when IBM engaged clients. Its services span sectors and include businesses like financial services, retail, textile, and telecommunications. As an example of what it does for these companies, IBM implemented a new IT system for Yantai Wanhua Polyurethanes Company to help manage the company's supply chain, human resources and customer relationship processes. The client is expected to increase operational efficiencies by up to 77% in four years.
In the next five years, IT service in China is expected to double with spending exceeding $20 billion. IBM's growth will continue to expand as companies adopt next-generation IT systems as well as IT services.
That's long term, but short term it is still in a bearish pattern. Therefore I am going to capture some income following the trend.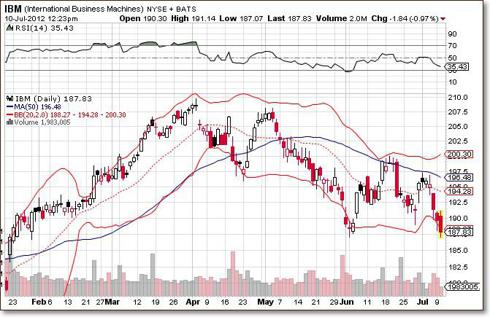 The Options Play
Since I expect the stock to continue down another 4 to 5 points and then head back up in its (bearish peak and valley pattern), I am looking at playing a short term income strategy but buying the first option in the money (NYSEARCA:ITM).
Buy an October 2012 put with a strike of '190' (priced at $9.95)
Sell an October 2012 put with a strike of '185' (priced at $7.50)
Net Debit to Start: $2.45
Maximum Profit: $2.65
Maximum Risk: net debit
Maximum Length of Trade: 4 months
Reasoning behind the Trade
Stock is presently in a bearish pattern so we trade with the trend.
Tech sector is also bearish.
Slow down in revenue in 2012.
Disclosure: I have no positions in any stocks mentioned, and no plans to initiate any positions within the next 72 hours.