From a Technical Perspective
RSI- this week carried over the same pattern we have seen in the stock. In a peak and valley move it has inched higher but the RSI is not showing any strength on these moves. The last three highs have all reached the same level and stopped. Lack of strength may keep this from moving up much more.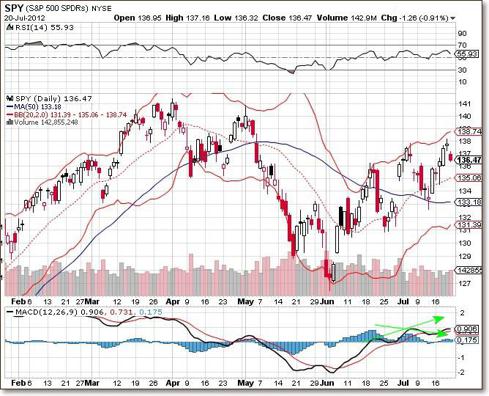 Bollinger Bands- coming close to the top of the band, the SPY has backed away as I expected it to do. If it continues in the same pattern this week, we may see it drop close to the 134 level. This has been its consistency so we shall see.
MACD- As I started to write last week, the negative divergence in the MACD is showing weakness in the SPY 's upper trend. This divergence is more defined after another week so I am staying with a reversal coming soon.
Current Events
While this quarter's earnings reports have crossed a substantially lowered profit bar, future expectations through the year indicate a recession could be on the way.
Estimates for the third and fourth quarters have been dropped to levels not seen since the days of the 2008 financial crisis, below even the muted 2 percent expected level of inflation.
That's an ominous recession sign for an economy that has barely managed to attain positive growth this year even with the strong level of earnings beats, according to an analysis by Nicholas Colas, chief market strategist at ConvergEx in New York.
Tiny Murcia was on course on Sunday to be the second Spanish region to request help from the central government to keep it afloat, as media reported half a dozen local authorities were ready to follow in the footsteps of Valencia.
How Spain's 17 indebted autonomous regions, locked out of international debt markets, refinance 36 billion euros in debt this year has been a major source of concern for investors ever since they missed deficit targets last year.
Disclosure: I have no positions in any stocks mentioned, and no plans to initiate any positions within the next 72 hours.