DJI Daily Trade Signals
We again lack any decent movement in the stock from yesterday. One pattern that we can see though is the simple pattern of starting off good and then dying through mid day. But—we have close a little bit higher everyday! This could set us on a new upward trend using the Bollinger Bands middle line as support.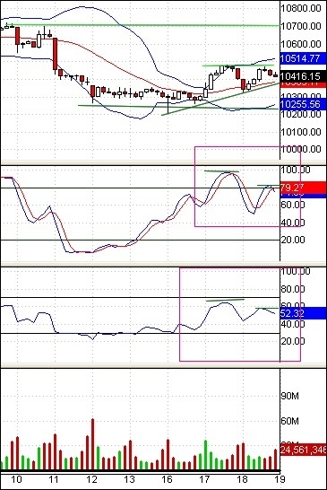 It appears that this week, 10472 region is our resistance level we are attempting to fight through. Yesterday we touched the region again, but with less strength. Notice the MACD & RSI are still lower than the previous day. It will be interesting to see if we can get through it.
Thirteen months ago, General Motors was fighting for its life in bankruptcy court. Now, the automaker is laying the groundwork to sell stock to the public once again with the eventual goal of ridding itself of government ownership.
There is more good news today to so traders a looking for the markets to move up on news from job reports. There is a good chance futures will open higher.
Economic reports in recent days have indicated the economy is growing at a tepid pace, but they have been enough to reassure investors that the economy isn't falling back into recession. That comes after weeks of more discouraging reports on the economy, which led investors to worry about fears of another recession.
Disclosure:
No Position