After last weeks slow bearishdescent, we are looking to see if we can turn things ar ound today. This is a bit more optimism tostart off the week since we have no reports today.
Trade this week cautiously, all the reports due later will dictate where we will go.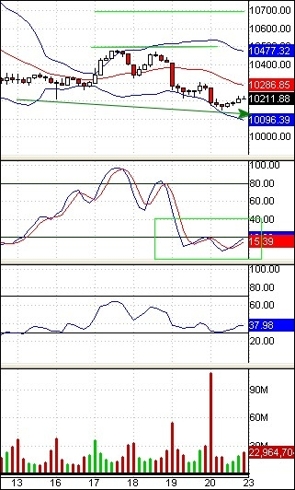 Europe rose, so that may give us icentives to rise as traders get back into the market after last week.
There is no news today that will influence the markets either way. But we can expect a slight to moderate gain at open for futures.
The key to our week will be the reports that come out. Bearish sentiment has been influenced by reports that the economy is slowing and if that continues, we can see ourselves lower by the end of the week.
High unemployment remains the biggest obstacle to a stronger recovery. Analysts widely believe, though, that high unemployment will remain for a while because companies are still tentative about economic growth and unsure about potential increases in taxes and costs from health care reform passed earlier this year.
Investors will get data on the housing market, durable goods orders, consumer sentiment and a revision to the second-quarter gross domestic product later this week.
Disclosure:
Hold