DJI Daily Trade Signals
8/26/2010
There was a whole lot of shopping going on yesterday as investors flooded the market looking for bargains! News wasn't good, but DJI slowed about 9936.4 and built a foundation as investors bought bottom-priced stocks.
With that said worlds stocks followed last night. The ri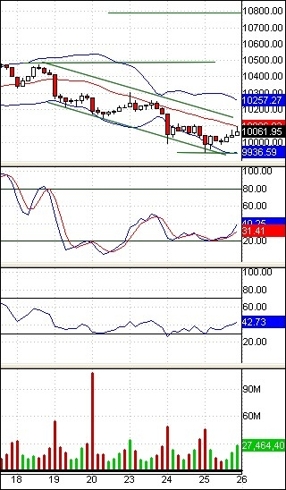 se was tentative amid the concerns about a slowing US economy that would dampen the world's growth.
Investors remain cautious ahead of more economic indicators from the U.S. Recent figures from China to the U.S. have pointed to the global economy slowing in the second half of the year and markets are now looking for signs of how deep the downturn will be.
With that being said we must understand that this "rebound" is but bargain hunting. Do not expect a huge rebound here. These types of days will come as people shop the markets at certain points. This is just natural buying.
We have a key economic report due today, and investors are buying stocks and bonds—this shows their caution. Unemployment report is to show that it fell by 10,000 to 490,000…we shall see. 
Even with stock futures rising, traders continued to move money into the bond market, sending interest rates lower. That move signals traders are uncertain about the strength of the economy, particularly ahead of the government's latest reading on new claims for unemployment benefits.
Disclosure:
No Position