With the small rise yesterday, we are expected to challenge that elusive 17,000 resistance level today. But at the same time we are expected to challenge, we have a negative divergence developing in our RSI. This development is not long-term, it is in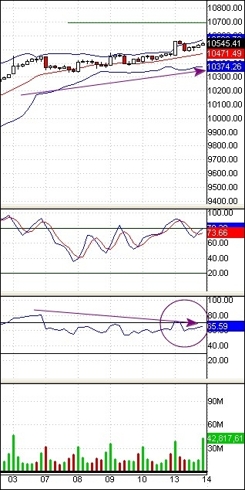 the 60 minute chart.
With our persistent slow upward move, people are still leery of the stock market though. In a recent pole, people were skeptical that the stock market was a good place to put their money. So there is still a lot of skepticism.
There is some news today that will influence the way the market will move. First the "not so good" news is that…Senate GOP leaders declared on Monday that Republicans are, to a person, opposed to legislation that would extend only middle-class tax relief.
But the big news is the news on retail sales today. Everyone is waiting and cautious ahead of the news this morning. Futures are down early before the market. Traders have driven stocks higher throughout the month following signs that the economy continues to grow, albeit slowly. The Dow Jones industrial average has climbed eight of the past nine days
Tuesday's report on retail sales is expected to fall inline with the trend of modest expansion that has been seen in other reports such as unemployment and manufacturing data over the past couple of weeks. The Commerce Department is expected to report Tuesday that retail sales rose 0.3 percent in August
Disclosure:
no Position