We have an interesting occurrence here. Friday, we really did not move that much. We jumped early upon the good news, but stayed there the whole day. If you notice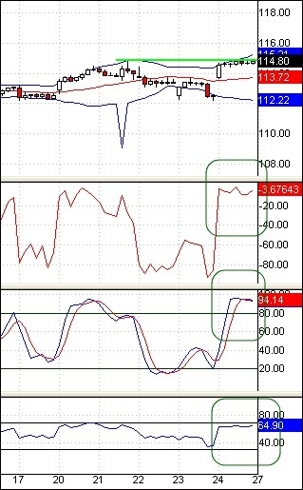 all we did was reach our next resistance level. And we reached all day long but could not go past it. This has caused us to be other bought without really moving steadily forward.
Look for stocks to possibly move higher because of world movements. World stocks rose modestly Monday as improved U.S. indicators eased some worries about the strength of the economic recovery. Near-record gold prices, however, show sentiment remains tense as investors seek safe assets.
Stock futures edged higher Monday on corporate deal-making in the airline, consumer products and retailing segments.
With no new economic reports to be released, investors turned their attention to individual companies for insight into the health of the economy.
Disclosure:
Hold