We definitely have a well defined resistance level at the 115 level now on our 60 minute chart. We literally moved nowhere yesterday.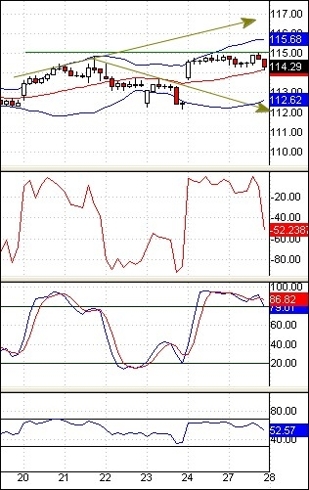 Renewed worries over Europe's government debt crisis and a report that the Federal Reserve may announce a limited package of stimulus measures at its next rate-setting meeting weighed on European stock markets Tuesday. However, expectations of a rebound at the U.S. open helped Europe's stock pares pare a large chunk of their earlier losses.
Between some fair economic over seas data and corporate dealings here in the US the futures should open slightly higher this morning. There are no big news makers out there today as investors are watching how individual stocks and mergers are moving the markets.
·         The Asian Development Bank raised its forecast for the region's economic growth this year.
·         Consumer confidence in Germany rose as more people are optimistic about job increases in Europe's largest economy.
A monthly report Tuesday on consumer confidence is expected to show that Americans' mood worsened slightly in September as they grappled with job worries and an economy that's recovering slowly. The weak outlook comes despite a recovering stock market and shows the challenges retailers face as they prepare for the critical holiday shopping season.
Disclosure:
Hold