Make no mistake we are still slightly if not gradually bullish. We move up a little in a few days and then spend the next 3 or 4 moving sideways between bullish and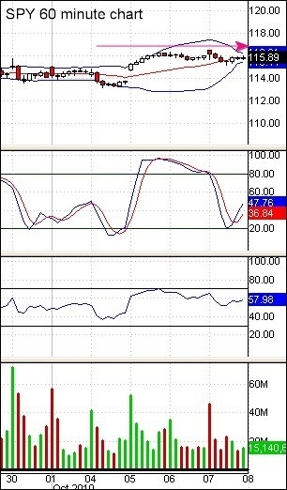 bearish.
The market couldn't even get a lift from a relatively upbeat earnings report from Alcoa Inc. as the jobs report dominated investors' attention. Alcoa's earnings are historically considered a barometer for how corporate earnings might fare.
High unemployment remains a major hurdle as economic growth continues to be sluggish. The Labor Department's report, considered the most important on the economic calendar, is unlikely to alter anyone's perception about the strength of the economy.
A gloomy jobs report could give the Fed more incentive to act.
The Fed's goal, if it starts buying bonds again, would be to drive interest rates down further from their already low levels and spark borrowing and spending. Lower rates could also eventually drive investors into riskier assets like stocks or into currencies in countries with more attractive interest rates.
Disclosure:
No Position