The story of Longfin is Summarized by this Bloomberg chart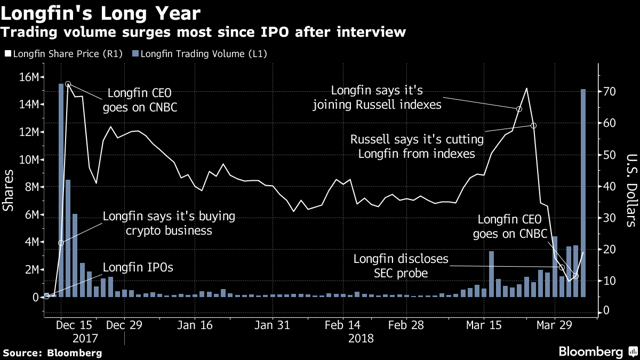 Source
Fairytale IPO where stock spikes from $5 to $142 within 2 weeks in middle of Bitcoin mania.
Longfin claims to work on forex Exchange derivatives  using  AI for 700 trillion $ Shadow banking market checkout their IPO video
Two weeks post IPO buys Ziddu stocks rips to 142
Longfin Corp. Acquires Ziddu.com, A Blockchain-empowered Global Micro-lending Solutions Provider Soruce
CEO appears on CNBC chokes on interview stock tanks to 30's.
Stock gets added to Russel rebounds from 30's to 80's
Russel admits error and Citron Research tweets they will short Longfin stock tanks to single digits
Was it short covers or day traders who got in make a quick buck on thursday and Friday were left holding the bag after T12 SEC halt 
More Reasons to worry
Now it looks like Bachans own 250,000 $LFIN shares with their Ziddu.com investment 

What's in future?
Will it be back, grey market or OTC or CEO going to jail who the hell knows 
Disclosure: I am/we are long LFIN.
Additional disclosure: i just have a few call position for $LFIN