This is our first covering analysis on GameSpot (NYSE:GME) so I'll start as usual with my detailed Technical view on the stock:
The Short Term annotated chart: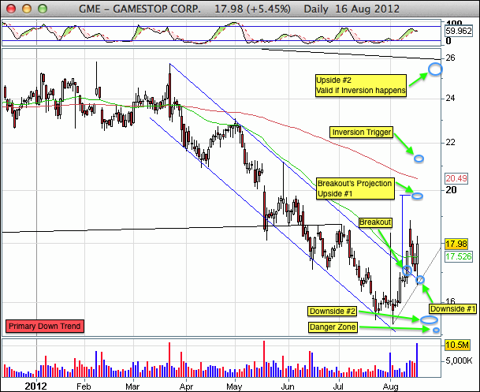 Primary Trend: Bearish Down Trend
GME is riding a Bear Market since late 2007, down from the 60$'s to a recent low near 15$. The Downtrend is well defined with consecutive lower highs and lower lows, leading moving averages retain a bearish setup with the 50-ema trading below the 200-ema, making this a very solid trend from a long term technical perspective.
I'll remain long term bearish on GME until it trades above ~21.20$ where I've noted "Inversion Trigger" on the chart, this price would potentially invalidate some of the bearish thesis and would most likely generate a true technical inversion to the upside on the long term time-frame.
Downside References:
- I've noted the "downside #1″ near 16.80$, this is approximately the recent breakout zone and also the short term ascending support level, so basically it defines the short term downside potential expected from short term consolidations or simple market noise.
- On the 15.30$-15.50$ range I've noted the "downside #2″, this is the recent lows and should act as a support level in case "downside #1″ fails to sustain GME.
- Near 15.00$ I've posted a "Danger Zone", this would post a new low and would expand the downside further south giving strength to the Long Term Bearish thesis, I could project further downside references but I won't do it at this time.
Upside References:
- CME recently broke out it's mid term descending channel, this process is a good sign and it puts an upside projection @ 19.80$, currently in-play, I've noted "Breakout's Projection - Upside #1″ there since this is the most likely area of expansion for the current setup (note: the breakout itself and today's run were both made under heavy volume… that gives strength to the process).
- As stated before, near ~21.20$ I've noted the "Inversion Trigger", this is not a resistance by itself and should not be interpreted for short term purposes, but this zone would potentially end the Bear market opening the upside to further expansion.
- Above 25.00$ is the "upside #2″, it looks like a long shot from here, but if the primary trend turns green it would be the first area of reaction expected on the upside.
The Long Term chart with trend annotations: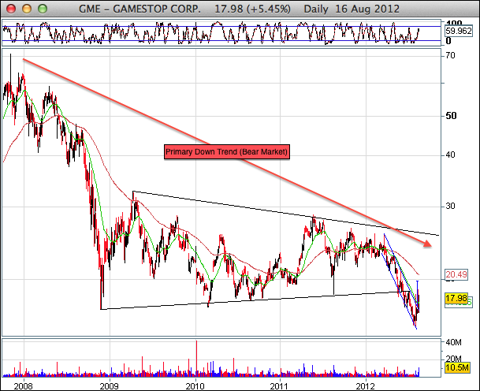 The long term chart leaves no doubts about the Bear Thesis (from a Technical point of view), GME had a huge deep in 2008, started some kind of lateralisation until mid 2012 giving some kind of hope, but the recent drop into new lows putted the Bear Scenario once again very alive…
Quick Fundamental View:
GameSpot used to be a (NASDAQ:FAST) Growth Stock until 2008, and that's why the stock jumped from 3.75$ in 2003 to above 60$ in late 2007, the price drop started before the fundamental stalling because the market works just like that, anticipating things, especially when a traditional growth stock stops growing…
Currently GME's market cap is 2.34B, it trades with a low P/E of just 7.71x ttm, the Balance Sheet looks clean with acceptable Current and Debt/Equity ratios and zero long term debt. The problem here is clearly growth related, GME has to have growth in order to trade at higher earning multiples like it did in the past, and right now earnings have staled with EPS up and down between 2.25$ and 2.41$ in the last 4 years without a clear growth trend.
Although there maybe a light at the end of the tunnel, estimates give us some prospects with 3.14$ and 3.35$ for FY13 and FY14, if that comes true I doubt to see GME trading at the current low multiples, and make no mistake, a simple multiple adjustment could potentially mean a big move in share price… I'vent dig much into it, but it's enough to identify at least a potential catalyst in-play…
Final Notes:
From a technical perspective GME is on Bear Market and I personally avoid trading stocks with a primary down trend. Although I've identified a "inversion trigger" at 21.20$ that if printed could change my mind about it. Currently there's also a breakout projection in-play near 19.80$, that's a bit more near that inversion trigger, so there's hope… On the fundamental front, GME suffers from a much common problem among ex-growth stocks: the lack of growth… on the other hand, estimates point to considerable growth starting this FY and beyond, so this is probably a nice turnaround play to keep under the radar.
I wouldn't buy it now, but I wont have a problem buying it higher with a more solid technical and fundamental setup.
Happy trading guys!
Ramsburg
Disclosure: I have no positions in any stocks mentioned, and no plans to initiate any positions within the next 72 hours.