Fisher-Price is the 600 lb gorilla in the Preschool space and its very sluggish performance over the past nearly ten years had a great many analysts scratching their heads, trying to figure out what was going on. Was it part of the Mattel company problem best illustrated by the then Barbie performance - attributed to the feudalism within the company, glacially slow decision making, extreme degree of bureaucracy or any other sins typically associated with large companies? Or was it something else altogether?
If these analysts had taken the trouble of talking to any store manager at the large retailers - Wal-Mart, Target, ToysRUs etc - they would have found out that there were in fact two components to the problems besetting Fisher-Price. One problem, to a relatively small degree, was all of the above. The other problem was really none of their making. It was economic, particularly as this applied to the 45% of the U.S. population making $45,000 or less per year and euphemistically referred to as the Middle Class and the lower-income population.
Even before the most recent recession, these consumers were each day faced with hard choices - food or rent, medications or fuel, heating the home or buying clothes. Then the 2008 recession struck and life became really tough. The chart below illustrates what happened to real incomes then and afterwards: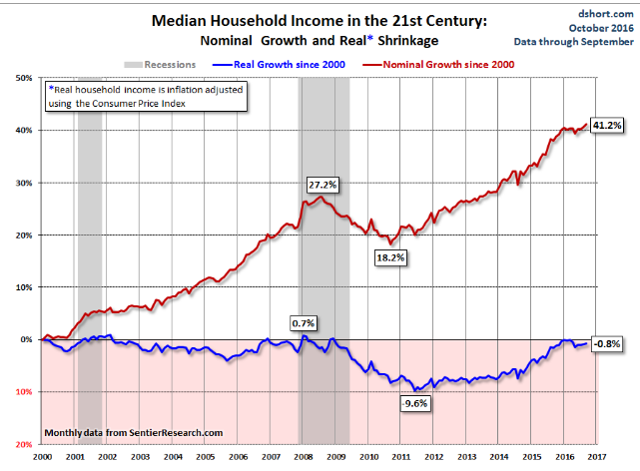 However, those that had kids still bought toys because economic hardship is something difficult to explain to a child. What they did was to go down the price scale and to substitute - going for price rather than brand. They rightly realized that it does not make a jot of a difference whether you give a two-year old a $50 toy or a $5 toy because he or she will play very happily with either for five minutes before getting to the real fun - the wrapping paper, the ribbons, and the box. As a result, the Preschool category was hit much harder than the rest of the toy market and expensive Fisher-Price, being the aforementioned 600 lb, got creamed. This is how the numbers developed: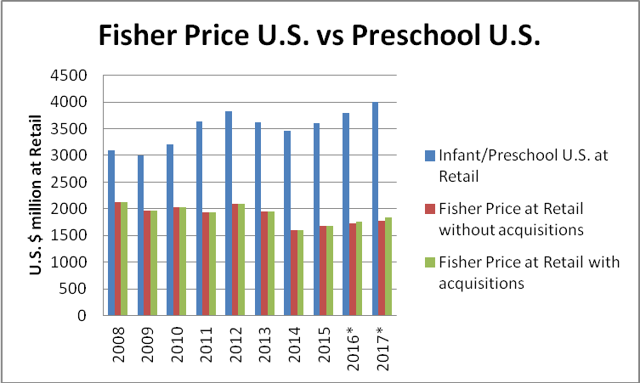 As we can see from the first chart above, real incomes started to grow again in 2015 and this growth disproportionally benefitted the consumer group making less than $50,000 a year because this turn-around was driven by a sharp drop in gasoline prices, an increase in the minimum wage in many parts of the United States, lower unemployment and more working hours. People started to feel better about their lives and as a result could afford to be a little more generous with their little guys. And this, of course, benefitted both the Preschool category overall and Fisher Price in particular.
However, the economy was neither the only cause for the decline in Fisher-Price nor the only reason for the brand's recovery. Mattel's company culture most certainly had something to do with the former and a profound and ongoing change in this culture was at least partly the driver for the latter. There is little doubt in the minds of the national buyers that Mattel has fundamentally changed the way it conducts its business. They also believe that the shock of losing Disney Princess was a major factor in this change.
Whatever the case may be, there is little doubt that the Fisher-Price we see today is a different animal from what it was a few years back.
It appears that Mattel has begun to drive Fisher-Price into two distinctly different directions - one focusing on the below-five year olds, the other targeting the learning space.
If you look at Fisher-Price's top-selling products at mass retail, the mean age is 2.5 years. There is a reason for this focus. A recent study by the American Academy of Pediatrics surveyed 350 children aged six months to 4 year olds during October and November last year and found that 75% of the 4 year olds had a smart phone. While in all probability given to them by their parents as a safety measure, it is reasonable to assume the phone then was used for playing games. It is also reasonable to assume that smart phone penetration increases as you go up the age scale. By concentrating on providing toys for the below-four year olds, Fisher-Price elegantly sidesteps competition by smart phones and other electronic devices.
On the other part of their product strategy, the company's invasion of the learning space has been helped by a recent development - the LeapFrog/VTech merger. These two companies had an oligopoly in Electronic Learning Products and totally dominated the aisle devoted to them. By merging the two companies, a merger that incidentally is being opposed by U.K. government bodies, they created a monopoly and this was not liked by the national buyers. This merger effectively shifted negotiating power from the retailers to the new entity. To offset this, the buyers basically encouraged other companies to enter the fray and gave them space in the aisle previously monopolized by LeapFrog and VTech. Mattel was not slow in recognizing this as manna from heaven and jumped at the opportunity this represented.
Fisher-Price had for a while been developing products with greater emphasis on child development as opposed to pure play - Laugh&Learn and Think&Learn are examples of this. The former is designed for the very small guys, 6 months and up, whereas the latter goes to the bigger kids, 3 years plus. Whilst both ranges were until recently completely restricted to their Preschool toy shelf location, they have of late made an appearance in the Learning space.
They first showed up there in September 2016 when Amazon Mexico reported that Laugh & Learn had made it into their the top five rankings in Learning Products. In October, Amazon Mexico again reported the same and ToysRUs U.S. reported Laugh & Learn also in their top five learning products. In November, Laugh & Learn leapfrogged into the top five at ToysRUs U.K., Amazon India, ToysRUs Australia, ToysRUs South Africa and at a very large New Zealand retailer.
Fisher-Price is not the only one making the leap - so it Paw Patrol of Spin Master who has shown similar successes during the last three months.
It is interesting to see how social metrics view the two companies -[ Fisher Price and Leap Frog - as per TickerTag metrics:

Mattel has very recently taken steps to further buttress their advance in the two directions I had mentioned. They bought two companies. One was bankrupt FUHU with its award winning Nabi tablet, ideally placed to further strengthen Mattel's entry into the learning space and to effectively compete with both LeapFrog and VTech's console business. The other was Sproutling, a start-up with a fantastically clever baby monitor designed to further expand the company's presence in the nursery. Nabi has just been released and Sproutlings is still in the launch planning stage*. Mattel also tried to buy the Mayborn Group U.K., makers of the leading baby product range Tommee Tippee. This did not work out because Ping An, one of the largest Chinese insurance companies, stole a march on Mattel by acquiring Mayborn a few months ago. However, there is little doubt that Mattel's diversification strategy with focus on the very young is still in place and we can expect more acquisition efforts in future.
Given these initiatives, there is little doubt that Fisher-Price will continue to be the undisputed 600 lb gorilla in the preschool space.
*Subsequent to writing this article, Mattel announced the impending release of its baby monitor "Aristotle"
This article was first published by the Toy World Magazine U.K. on January 10, 2017
.
Disclosure: I/we have no positions in any stocks mentioned, and no plans to initiate any positions within the next 72 hours.