The Dow Gold Ratio chart shows a rising DGR.  When that happens, stocks do very well and commodities, especially gold do poorly.  We have been in an uptrend since 2013 and there are no signs of a change in direction coming.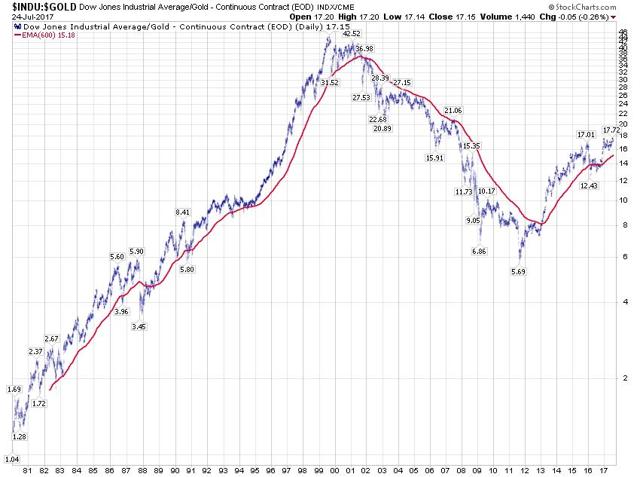 When a change in direction does occur it doesn't happen abruptly.  The turn may take a couple of years as it did in the tech bubble peak.  
The DGR is a very long term indicator.  It does not predict small corrections but instead gives you long term market direction.  Since 1980 there have only been 3 direction changes.  
Since 1980, the DGR rose until 2000, bottomed in 2013 and has continued to rise since then.   During the rising times you own stocks and during the falling times you own gold.  
A hypothetical return of switching between gold and stocks yields significant alpha and kept you out of stocks during the 2007-2009 selloff.  
While the DGR didn't bottom until 2013, gold outperformed the S&P 500 from March 2009 until the DGR turned up and signaled entry into stocks.