The week ahead promises to be volatile. With the stock market near all-time highs, the markets have shrugged off worries about Federal Reserve rate hikes, economic signals of weakness and Brexit. So what happens now? Is the all clear given for new all-time highs?
This week we will begin earnings season. The first big name company to report will be Monday after the market closes. Alcoa Inc (NYSE:AA) will report earnings, and economists will be looking for signals of growth or lack their of, in the aluminum industry. This could tell investors if a global slowdown is getting worse or easing. The consensus estimates are for $0.09 per share on $5.20 billion in revenue.
The rest of the week will mainly be devoted to financial stocks. Banks such as JPMorgan Chase & Co. (NYSE:JPM), Citigroup Inc (NYSE:C) and Wells Fargo & Co (NYSE:WFC) will report. Investors will be looking closely at these reports to decipher how much of an impact low rates are having on their earning potential. The 10 year yield closed on Friday at 1.358%. After Dodd-Frank was passed, banks are much mor reliant on higher interest rates to increase profits. In addition, look for comments from CEO's like JPMorgan's Jamie Dimon on the future of the global economy. The markets always pay attention to his remarks.
Lastly, there are many Federal Reserve presidents set to speak this week. After the Non Farm Payrolls Report showed a monster increase in jobs in June of 287,000, investors will be watching to see if the Fed President's tones have shifted to hawkish. Could interest rate hikes be back on the table for later in 2016?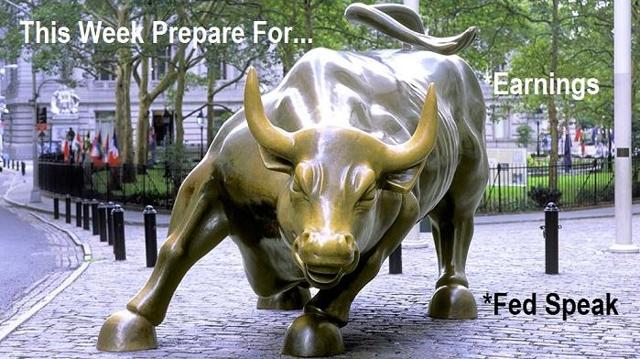 Jenny Rebekka
I verify all my trades live, in real time here: VerifiedInvesting.com